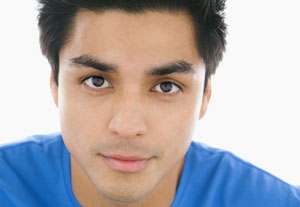 Jonathan Deroko opened Back Stage and saw the casting notice for Arthur Miller's "All My Sons" at the Newport Theatre Arts Center. He wanted to audition, but unfortunately he had broken his ankle and was walking on crutches. "As the audition got nearer, I was debating whether or not I should go," he says. "I had surgery on the ankle, and then I had to make sure that I would be ready for the opening and the production. Once I figured out the time frame and that I would be okay for the performance, I felt like it was okay to go to the audition."
He auditioned for the role of Chris Keller, the son who returns from war. Director David Colley, who had previously seen Deroko in NTAC's production of "A Few Good Men," was impressed with his audition. "His monologue was very strong," remembers Colley. "He had a real nice understanding of the character, both the emotional side and the content of what he was saying. He showed a lot of depth." At callbacks, Deroko continued to shine. Says the director, "There was a nice balance between the dramatic tension of the role and the humor and the positivity that the role has as well. Then, seeing that he could do something in the period of World War II and Arthur Miller language, I just felt very confident in him."
Colley says he wasn't concerned about the crutches, because Deroko seemed comfortable with them and didn't make a big deal out of it. "He let me know that his ankle would be healed by the time we were in performance," he says. "The first audition was a monologue anyway, so he didn't need to be standing. Then, in the callback, when you're doing basic scene-reading stuff, it doesn't have to be lots of movement, so that was okay. He seemed like he was an actor who was dedicated enough not to let it bother him along the way."
After the callback, Deroko didn't feel confident that he had gotten the part. Even without crutches, he wasn't sure if he was right for it. "The callbacks were pretty challenging," he says. "The role and the show is so emotional, I didn't know if I had done what I needed to do. To be honest, I didn't feel that great about it. It was a combination of wondering if I was ready to do the role and still being on the crutches."
When Colley called the next day and offered him the role, Deroko was shocked and excited. "I was happy he did come, even on crutches," says Colley. "If he hadn't, he wouldn't have been cast."
"All My Sons" runs Jan. 21–Feb. 20 at NTAC.
www.ntaconline.com
.
Jonathan Deroko is represented commercially by Xpose Talent Agency (Veronica James). He is currently seeking theatrical representation.
www.jonathanderoko.com
.

Has Back Stage helped you get cast in the past year? We'd love to tell your story. Be in the weekly column by emailing casting@backstage.com for New York or bswcasting@backstage.com for Los Angeles with "I Got the Part" in the subject line.