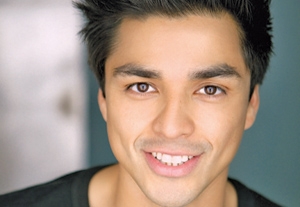 Jonathan Deroko didn't think his six years as a corpsman and medic in the Navy and Marines would ever relate to his acting career. Having a military background didn't exactly land him his part in Newport Theatre Arts Center's production of "A Few Good Men," but it's definitely enhancing his performance as Lt. j.g. Daniel Kaffee—a role made famous by Tom Cruise in the 1992 film.
"It wasn't prominent in my mind," says Deroko, who left the Navy six years ago to pursue acting. "I was really just drawn to the material. I've been dying to do this specific part. The story starts with this carefree, laid-back attorney with not a huge amount of ambition [and] towards the end of the story…he's really fighting for these two people that he's defending, and he believes that they were right and that they have a legitimate case and kind of rises to that occasion. I did feel like I know these guys. I know what it's like to serve and be in the service, so as far as understanding the story and understanding who these people were, I think my experience lent itself to that."
Director Gigi Fusco Meese noticed Deroko's military roots on his résumé, but due to his upbeat, casual nature, she says, it didn't register until she cast him. "It was great to have him, because he can tell the other guys how to stand at parade rest and standard attention," explains Meese, who has a daughter in the Marines. "I could see him being pretty much the leader of the group too, which is funny—how naturally these character traits are coming out kind of equal to the parts that they're playing. He really sets the tone of how everybody feels. They can see that he's the type of actor they can't mess around with. They need to be prepared to go up there with him. Everybody benefits when you're around good people.
"I'm very conscious of the veterans we have who are our patrons, who come to see our shows," Meese continues. "It's very important to me that they see that we're not just being sloppy and we didn't care to figure out how to stand correctly or to salute correctly. So I always take great measures to make sure that everybody passes muster. And I've always loved an opportunity to be able to tell 16 men what to do and they have to do it. I don't get that at home with my husband, and they say, 'Ma'am, yes, ma'am,' after I give them a note."
It was clear to Meese by the middle of callbacks that Deroko was the right person to play Kaffee—not that he didn't have competition. "It's always a crapshoot," she says. "You put the word out there through the good people at Back Stage, and these fabulous actors come. I had 60-plus people show up for this, and 25 of those guys wanted Kaffee bad. The passion that I saw for that part in particular was something else. I had very difficult decisions to make with that part…. There was something about [Deroko] immediately that caught my attention. Some people just have it. They just have a certain stage presence, and he is one of those guys. He had a good affinity for that character. He had obviously done his homework, looked at the play, was real comfortable with it. He was very confident when he went up to read."
This is the fourth role that Deroko has gotten through Back Stage, and though he's commercially represented by Veronica James of Xpose Talent Agency, he is currently seeking theatrical representation. Deroko has studied at the Janet Alhanti Studio, Larry Moss' Edgemar Center for the Arts, and the British American Drama Academy in London. "Right now I really feel like my education is coming from the stage—that's where I'm learning and growing," says Deroko. "I've auditioned for the Groundlings and I've been invited to study there, but right now my theater schedule won't allow that."
"I wish we were closer to Hollywood so they could come and see this kid," says Meese. "Hollywood should pay attention. He's got it. And upon arrival, [you'll be] at this gorgeous theater that overlooks the Balboa Peninsula. It's a nice tonic for an hour-and-a-half drive."
For more on Deroko, visit www.jonathanderoko.com. For more on the production, go to www.ntaconline.com. "A Few Good Men" runs through Feb. 21 at the Newport Theatre Arts Center, 2501 Cliff Drive, Newport Beach, Calif.Has Back Stage helped you get cast in the past year? We'd love to tell your story. Be in the weekly column by emailing casting@backstage.com for New York or bswcasting@backstage.com for Los Angeles with "I Got the Part" in the subject line.