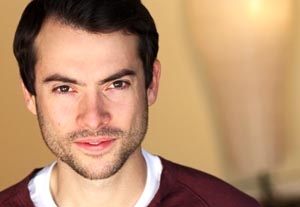 When actors dream of the roles they hope to get—the exciting, interesting projects with challenging characters—they probably know deep down that they're also going to have to pay their dues, playing roles that bore them to tears. But that just makes the really great parts all the more wonderful.
And when Jonathan Le Billon saw the notice for "Bright in the Dark" on BackStage.com in May, he knew Bright was one of those roles that made all the dues-paying worth it.
"The project was, for me, just out of this world," Le Billon says. "As soon as I saw it, I felt like, I'm going to have to email this guy just to say, 'I'm really interested in this project, whether you want to cast me or not. I just think you should do it.' And then when he sent the breakdown, it was just fantastic. It's basically what I went to drama school for—[one of] those projects where you just go, this is why I'm doing this job. And it was one of those, from start to finish."
Le Billon's enthusiasm made a strong impression on Armin Bettels, the film's director. "Right before our first meeting," Bettels remembers, "Jonathan emailed us about a dozen questions and remarks about his role and the story itself he was looking to discuss. He's like the most attentive actor I can imagine."
It wasn't just Le Billon's passion for the project that got him cast as Bright, the film's lead, though; it was also a strong online reel. Bettels says, "Watching his reel was the decisive factor, definitely. They say a picture says more than a thousand words, and let me go a step further and say a reel says more than a thousand headshots."
Bettels and his co-writer and producer, Bert Boersing, were in Germany while casting L.A. actors, so being able to view reels was vital for the casting process.
"But way less than half of the responses we got actually came with a link to a reel online, even though I specifically asked for a reel," Bettels says. "All of the upcoming actors out there should record a monologue and upload it; technically speaking, that can be even done with a smart phone nowadays."
Although Le Billon has worked steadily since moving to the U.S. a year and a half ago, most of his reel comes from his work in England, where he started acting when he was 13.
"I did quite a bit of television when I was younger," he says.  "And then I made the choice to stop doing television and go to drama school when I got my place at the Bristol Old Vic Theatre School. A lot of people said I was a bit crazy to do that, but it was one of the best decisions I've ever made." The role of Bright required an American accent, but thanks to Le Billon's schooling and dedication to hard work, this wasn't a problem for him.
"We studied it at drama school, so I had the basis of it," he says. "And when I first arrived in L.A., I offered free British dialect classes in exchange for American dialect classes. I must have done maybe four or five different students, so that helped as well."
"Bright in the Dark" is being edited and will be released this year. Le Billon has been keeping busy, most recently playing the title role in "The Gingerbread Man" at the Lewis Family Playhouse east of Los Angeles. He is SAG-eligible and plans to join American Equity when his green card comes through in a few months. He says he is, for the time being at least, here to stay.
"I think it's easier to be an actor here in L.A., and in New York as well. I think it's easier to exist, to survive, to have a nice life, and to concentrate on, hopefully, what, on a good day, is art."
Has Back Stage helped you get cast in the past year? We'd love to tell your story. Be in the weekly column by emailing casting@backstage.com for New York or bswcasting@backstage.com for Los Angeles with "I Got the Part" in the subject line.