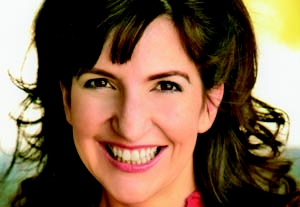 "Every experience leads to the next experience and gives you the ability to move on. It's kind of cool to look back and see that," says actor Karen Volpe about the roles that built up to her first leading-lady part: Fanny Brice in
Downey Civic Light Opera
's production of the musical "
Funny Girl
."
Volpe, originally from a small town in western New York, has been acting and subscribing to Back Stage for years. After booking plenty of understudy and supporting roles, she saw the casting notice for "Funny Girl" and thought the lead part seemed perfect for her. Except that Volpe had never seen the show; it was the word "funny" that attracted her. She promptly saw the movie and remembers thinking, "Finally, a role that will incorporate not only singing and acting, but being funny and being kind of who I already am."
She went to the open call and auditioned for Marsha Moode, the company's executive producer. Volpe had already done two shows at the theater: "Nunsense," as Sister Robert Anne, and "Oklahoma!," as Ado Annie. Since Moode already knew that Volpe was funny, the actor focused on proving that she could carry the drama. She picked the song "Who Are You Now?," and for the first time she got a coach to help her prepare.
Volpe made it to callbacks and recalls, "The scariest part was that Marsha has such a poker face. She doesn't let you know if you're doing poorly, but she doesn't let you know if she really likes what you're doing. So I left thinking that everything I did, I was proud of, but I had no idea if she was okay with any of it." But, Volpe says, Moode calls every actor who makes it to callbacks to let each one know whether he or she has been cast.
Volpe had nothing to worry about. Of the 40 women who auditioned, Moode knew at callbacks that Volpe was the one. "She came in and did a sensational audition and just seemed so right to me," says Moode, noting that Volpe's vulnerability made her perfect for the role. "Fanny Brice is not a caricature," she continues. "She's a real person, and you need moments of real tenderness and vulnerability and openness, and Karen could do that wonderfully."
Volpe's strong comedy background—she studied at Second City in Chicago and spent a year on a Disney cruise ship performing improv—drew her to the character. But she loves that she gets to be serious in the show too. "It's really exciting to be able to start off being very goofy and end up being serious and grown-up," she says, adding that she finds the drama "more exciting because it's more dangerous."
She and Moode note that the role is challenging; Volpe never sits down at rehearsals. She is grateful for the understudy parts she has booked in the past, especially Florence Greenberg in "Baby It's You," which gave her the opportunity to learn how to prepare for a role at home and practice in carrying a show. "I have to keep my voice up," she says, "and I have to be able to keep the through-line and have the energy and stamina and learn the thing and dance all those numbers."
Moode praises Volpe for all her hard work and is confident in her abilities: "She always sings full and acts full. Everybody in the company loves her because she is this warm and hard-working person, and she's there right on time to rehearsal, ready to go—'What do you need?'—and it's just a real pleasure to work with an actress like that."
Volpe is a member of SAG, AFTRA, and Equity and is repped commercially by MKS & Associates. Some of her work can be seen at www.themovieguys.net and www.prestonandvolpe.com.
"Funny Girl" runs June 2–19 at the Downey Civic Light Opera in Downey, Calif. For more info, go to www.downeyciviclightopera.org.Has Back Stage helped you get cast in the past year? We'd love to tell your story. Be in the weekly column by emailing casting@backstage.com for New York or bswcasting@backstage.com for Los Angeles with "I Got the Part" in the subject line.