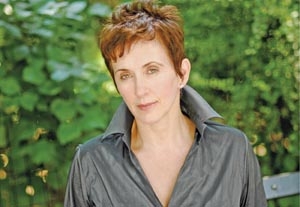 When Karin De La Penha showed up to audition for Shannon Denise Evans' Web series "The Velvet Moon Chronicles" looking like she knew what she was doing, Evans decided the actor was a perfect fit for the role of Lula Jade. The fact that De La Penha could perform the spot-on Scottish accent required for the part didn't hurt her chances either.
"First of all, she's gorgeous, and she's incredibly gifted," says Evans, who wrote and directed the series. "I mean, she's an amazing actress. She walks in the room and she's also superprofessional and put together, and you kind of know she's not messing around."
Penha was attracted to this particular Back Stage casting notice by Lula's character description. "The impression I got was they wanted a mature woman who had a real sense that she was still sexy, a sense of spirit, and humor," De La Penha says. "And she was Scottish."
The Scottish accent proved to be daunting for many of the actors auditioning for the role. "Those people were really nervous about it," says Evans. "People were coming in and sweating because they were so freaked out about it. People were shaking, the paper was shaking, and these were not grass-roots actors; these were people who had really good résumés. Accents just totally freak people out." But the accent was one of the reasons De La Penha came to the audition. "Dialects are a very strong suit for me," she says.
Beyond the accent, De La Penha's interpretation of Lula turned out to be exactly what the director was looking for. "She just is the character," Evans says. "Her heart essence is the same."
De La Penha is a former child actor from the U.K. She left acting for many years to pursue other careers. "I just needed to have more of an experience of real life," she says. "And I wasn't able to do the acting thing part time. I just had to amputate myself from it." But she resumed when she started getting requests to act while living on the West Coast. Then she moved to New York for the big-city life and more acting jobs.
"The Velvet Moon Chronicles" can be found at www.velvetmoon
chronicles.com. Plans are in the works to turn it into a novel, a Broadway play, and eventually a feature film.
Has Back Stage helped you get cast in the past year?
We'd love to tell your story. Be in the weekly column by emailing
casting@backstage.com for New York or bswcasting@backstage.com
for Los Angeles with "I Got the Part" in the subject line.