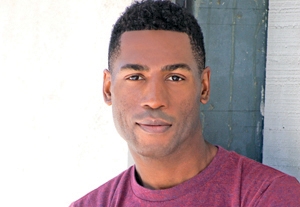 In earning the role of Ben in "The Rainbow Room"—which ran March 19–April 11 at Theatre Unlimited in North Hollywood, Calif.—Karnell Matthews proved that hard work, sincerity, and initiative produce results.
The Missouri-born actor, now based in Los Angeles, says he was immediately drawn to the character of Ben when he saw a casting notice for "The Rainbow Room" in Back Stage. "There was so much going on, just from the short description, that I felt I could grow and really have fun with," says Matthews. He was so passionate that he showed up without a scheduled audition—a risky move, though it paid off. Writer-director Sara Kumar, who found the majority of her actors through Back Stage, says his arrival was unexpected but serendipitous: "It was really weird because he walked in, and all of a sudden I was like, 'Oh my God, he might be Ben.' "
Considering the roles he was used to playing, Matthews admits that Ben was a bit of a stretch: "I think my type is a little more on the emotional side, while Ben is emotionally shallow and has a hard time with his relationships and opening up with people." Kumar, however, says it was casting at first sight: "In the play, Ben is an actor: very put together and very smooth. And Karnell kind of exudes all of those things."
Matthews describes "The Rainbow Room"—the proceeds from which were donated to Narsad Artworks, an L.A.-based nonprofit that funds scientific research into mental illness—as an incredibly positive experience. "The entire cast was very wonderful, and we had a great time, which is always a plus when you're doing the run of a show," he says. Kumar agrees and cites Matthews' professionalism and flexibility as instrumental to the show's success: "He was always willing to adjust his schedule when conflicts came up with the other actors—just extremely professional and always on top of everything. He's an incredible artist, and I really enjoyed working with him."
Matthews was interested in performing from a very young age; he credits his junior high school drama teacher with giving him the encouragement he needed to consider it as a career. He did a feature film earlier this year and is in rehearsals for another play. But he says his artistic pursuits are not confined to acting. His band, Karnell, which he describes as having a Top 40-ish rock 'n' roll sound, recently released an EP of original music titled "As Time Goes By."
Has Back Stage helped you get cast in the past year?  We'd love to tell your story. Be in the weekly column by emailing casting@backstage.com for New York or
bswcasting@backstage.com
for Los Angeles with "I Got the Part" in the subject line.