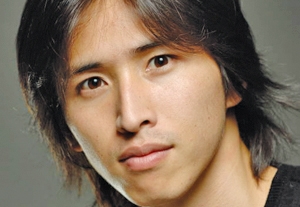 The acting bug first bit Koji Ohashi while he was watching American TV reruns in his native Japan. "I didn't know anything about New York City and New York theater," he says. "The only thing that I knew was the TV program 'Inside the Actors Studio.' I loved watching the TV program and was truly inspired."
Influenced by the students he saw in the show's audience, Ohashi moved to New York in 2006 to study and to pursue an acting career, after working for a year as a performer at Universal Studios Japan. Although his current optional training visa does not allow him to take paid work as an actor, he balances his role as a full-time student at HB Studio in the West Village with part-time, unpaid roles in small productions at community theaters.
In January, when Ohashi saw the Back Stage casting notice for singing roles in the Village Light Opera Group's nonunion production of "Fiddler on the Roof," he knew immediately he wanted to audition, being familiar with the company's reputation.
Ohashi had been to many auditions before, but at this one he felt a particularly tense atmosphere. "It's a big studio upstairs and it's blocked by a fence," he says, "so we couldn't see what was going on, but we could hear what's going on." He thought he underperformed at the audition and was disappointed to think he wouldn't get cast.
When director Tony Spinosa discovered that Ohashi has experience in the martial arts, however, he called the actor back to audition to be a featured dancer. "I try to access the attributes that an actor can bring to a project," Spinosa says. "I tend to find that especially men with a martial arts background can more easily adapt to dance."
But what of the fact that Ohashi is Japanese, in a musical about Russian Jews? "In casting large productions, I like to keep an open mind to nontraditional casting," says Spinosa. "The Village Light Opera Group is a community-based organization, and every ethnicity is represented in this production of 'Fiddler.' I don't think that any actor should be overlooked due to ethnicity, and Koji is a perfect example of effective nontraditional casting."
Ohashi, who is not a trained dancer, was nervous about dancing at the callback but was determined to prove himself. "I wasn't perfect," he says, "but I proved to him that I'm really quick picking up movements and dance and choreography."
"As a nontrained dancer, Koji has a strong awareness of his body and was able to assimilate the audition combination very easily," says Spinosa. "Koji has a good presence on stage and a strong focus when learning choreography." Ohashi has continued to work hard to hone his dancing skills throughout rehearsals. "Tony gave me a chance," he says, "so I've got to show him what I can do."
An added thrill for Ohashi: The show will be performed at Pace University's Michael Schimmel Theater, where "Inside the Actors Studio" is filmed. "This opportunity seems a dream come true for me," he says. "Now I can stand on the same stage performing, so that's truly a moment of joy and pleasure."
"Fiddler on the Roof" runs May 8–26 at the Michael Schimmel Center for the Arts at Pace University, 3 Spruce St., N.Y. For times and tickets, go to www.vlog.org.
Has Back Stage helped you get cast in the past year? We'd love to tell your story. Be in the weekly column by emailing casting@backstage.com for New York or bswcasting@backstage.com for Los Angeles with "I Got the Part" in the subject line.