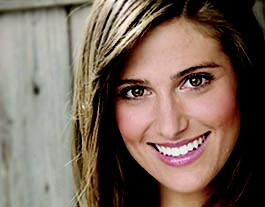 All actors strive to find projects that help them grow as artists and as people. Kristin Erickson was able to find one that did both when she played Maya in
American Blend
. Written and directed by Varun Khanna,
American Blend
is a story of a half-Indian, half-Caucasian girl who discovers a family secret. "It's a blend of cultures: American cinema and Indian cinema," says Khanna.
Erickson was intrigued the moment she saw the casting notice. "I always got Back Stage and would check for movies," she recalls. "It was an Indian movie, and I thought it was interesting. It said there would be dancing, and I always wanted to learn a craft in a movie. I thought, 'I really want to get this!' "
After three auditions, Erickson landed the role and began her transformation into Maya. The film draws from Bollywood movies, and part of Erickson's preparation was to learn
kathak
, a form of Indian dance. She had studied dance as a child and picked up the choreography easily but wasn't entirely prepared when she was asked to improvise a dance in the audition.
"I had no idea what to do. I probably looked a little manic," she recalls. "I guess it worked." She also learned several Hindi phrases. "That was the hard part. I did my best, but it was a challenging part of making the movie." Other challenges included holding her own among a cast of established actors—including Dee Wallace and Anupam Kher.
Maya was Erickson's first lead role, and she felt the pressure. "It was a lot to take on," she says. "I did a lot of student films and short films, but it was the first time that I had to carry a movie. I had the insecurity of 'Am I good enough?' "
Erickson was born and raised in Orange County, Calif., and began acting in plays at age 12. By 15, she had landed an agent and started auditioning, but, as she recalls, it wasn't an easy road. After high school, she decided not to go to college but to move to Los Angeles and pursue acting full time.
"I had to figure out everything on my own," she says. "I've had to find my own auditions through Back Stage. I've been in classes since then and done a handful of independent feature films." Once
American Blend
was complete, Erickson was asked to go to India to help promote the film's premiere.
"I did some phone interviews and took some pictures," she recalls. "I was in a few Indian newspapers and got interviewed at the premiere on camera. It was really exciting." Currently, she is studying at the Brad Henke Studio and focusing on writing and working on personal video projects that she uploads onto YouTube.
Despite the hardships she faced while making
American Blend
, she looks back on the experience fondly. "There was a lot of maturing during the film: really getting into it, putting a lot of work into it, getting afraid and nervous," she says. "It was a very good learning experience." For more on Erickson, visit www.imdb.com/name/nm1644138. For more on the film, visit www.american
blendthefilm.com.
Has Back Stage helped you get cast in the past year? We'd love to tell your story. Be in the weekly column by emailing casting@backstage.com for New York or bswcasting@backstage.com for Los Angeles with "I Got the Part" in the subject line