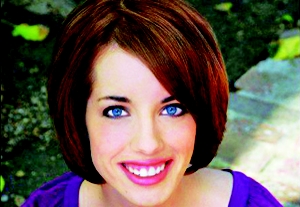 A combination of flexibility, training, and careful preparation helped Laura Cook land the role of Fruma-Sarah in the AIM Management tour of "Fiddler on the Roof."
"I had just moved to New York a week and a half earlier when I saw the audition notice on BackStage.com," Cook says. "I auditioned with a song in the style of 'Fiddler,' after which they asked me to sing 'Matchmaker.' " She happened to have the song memorized, having performed in previous productions of the musical in the roles of Hodel and Fruma-Sarah.
Cook attributes her being chosen for the role partly to her ability to make quick adjustments during the callback: "They asked me to sing Fruma-Sarah's portion of the dream sequence and specified they didn't want it to sound pretty. I sang the first portion of the song and went all out in an effort to make it shrill and angry. Evidently, it was what they were looking for."
AIM creative director Donald Westwood agrees that Cook's extensive preparation, along with her charisma, made her stand out. "Our auditions for 'Fiddler on the Roof' were extremely competitive," he says. "Casting notices in Back Stage produced more than 1,000 résumés. We saw nearly 400 people. Most of them had a great deal to offer. Beyond her ability and technical training, both of which are impressive, Laura succeeded because she presented a prepared audition. She demonstrated knowledge of the show in her selection of material. Of greatest importance, she held the interest of everyone in the room."
Cook, who earned an MFA in acting from Ohio's Kent State University and spent the summers performing with professional regional theaters, considers this tour a significant milestone for her. "I feel that this opportunity is a big steppingstone in my career," she says, "as this is my first time to work on any sort of touring production."
Although she has focused on musical theater in the past, Cook is open to all types of performing and learning opportunities: "I am hoping to continue building my range of professional theatrical experience, both regionally and in New York. Through these experiences, as well as further training in classes and private coaching sessions, I want to continue to sharpen my abilities as an actor. In addition, I would love to delve into the realm of sitcoms and film. Regardless of the medium, I desire to find opportunities that would allow me to stretch my comedic skills, as I love making people laugh."
Has Back Stage helped you get cast in the past year? We'd love to tell your story. Be in the weekly column by emailing casting@backstage.com for New York or bswcasting@backstage.com for Los Angeles with "I Got the Part" in the subject line.