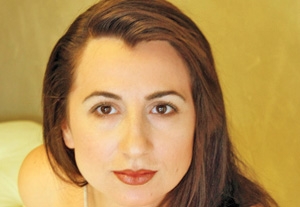 Lauren LeMay had wanted to be an actor ever since she was a little girl, but living in Communist Romania made that dream next to impossible. "It was a dream that you could only pray about," says LeMay. "I wanted to move to America and act, but there was no way the government would let us leave." The revolution took place during her childhood, and a few years later her family had saved up enough money to move to Chicago.
After LeMay finished high school in the Midwest, she packed up her Firebird and told her family she was moving to California to be an actor. "My parents thought I was going to come right back, but I didn't," she recalls. "That was seven years ago. I barely spoke any English, and I didn't know what a headshot and résumé was. I watched TV with no subtitles, went to acting school to meet people, and talked to everyone I could until I got better at speaking English. But I kept the accent."
One day, LeMay picked up a copy of Back Stage at a bookstore. A casting notice for a short film caught her eye. "Many times I see casting calls for 5-foot-9, modellike, gorgeous, perfect women," she says. "I am not those things. This notice stuck out." It called for someone shorter in stature who had the ability to take direction and experience in improv and movement. Plus, the job was for pay. Intrigued, LeMay submitted and was emailed an audition time.
At the audition, she met the casting coordinator and the director. "There were no lines, so the director just directed me, to see how I took to it," LeMay says. "He was very precise and made it easy for me. I just followed what he said. They told me they were very happy and that I was exactly what they were looking for. I left feeling very confident and excited."
The casting coordinator, who helped pick LeMay from about 30 women, remembers thinking she was perfect for the part. "We were impressed by her intensity. We were looking for someone who could move a certain way, and she had very good movement technique. We also needed someone who could stay in character. That was very important. And Lauren stayed in character the entire audition. She really seemed to register what the director was after and interpret it, and she seemed very confident and comfortable. Also, she was on time, which is super-important."
There were supposed to be callbacks, but instead LeMay was offered the part based on her initial audition. "When I showed up on set, I felt so confident, because I had such a good experience at the audition," she says. "The role was like nothing I've ever done before, the director made me comfortable, and it was fun. In the past, sometimes I wouldn't know what to do on set, but he was very positive and gave me confidence."
Now a Back Stage subscriber, when LeMay sees roles for the tall, perfect model types, she doesn't get discouraged. "There are a lot of roles out there for people who look like me," she says. "And I don't have to be an itsy-bitsy girl wearing a bathing suit. I actually get to act."
LeMay is repped by Jack Scagnetti, and her website is www.laurenlemay.com.Has Back Stage helped you get cast in the past year? We'd love to tell your story. Be in the weekly column by emailing casting@backstage.com for New York or bswcasting@backstage.com for Los Angeles with "I Got the Part" in the subject line.