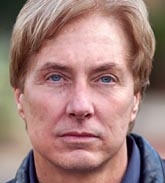 Role: Mickey Cochrane
Project: 'Gandhi at the Bat'
It was no wonder Lee Perkins — racecar driver, baseball player, and actor — got cast in Gandhi at the Bat, a digital newsreel-style film set in 1933, directed by Stephanie Argy and Alec Boehm. Perkins stars as Mickey Cochrane, catcher for the Philadelphia A's. Gandhi at the Bat is based on a fictional story published in 1983 in The New Yorker about Mahatma Gandhi visiting the United States and how he ends up pinch-hitting for the New York Yankees in a game against the A's. Perkins was intrigued by the project right away.
"I did have a baseball background and had always wanted to do a baseball movie," he says. "To find out it was a period movie, I thought, Oh, this is going to be cool!" During the audition process, Perkins' experiences made him stand out immediately.
"He knew about period baseball and demonstrated the differences between how the catchers squatted at the time versus now," explains Argy. "He pointed out that back then everybody chewed tobacco and not all actors are going to want to chew tobacco but you can get the same effect if you give everybody raisins." The audition consisted of the actors fielding questions from an off-camera interviewer while in character.
"He had this physicality, this resistance to the camera and the interviewer," Argy says. "It was clear that he was going to have the authority that this catcher needed, because his character is the one that really is transformed by the encounter with Gandhi."
Perkins attended California State University, Sacramento, where he studied drama and communications. He and a group of friends would put on "one-act plays and original things that we would write," he recalls. "It was just something to do, just to get that artistic craziness out of our system. Whatever struck us, we did." They became most well known for their Kiss impersonation concerts, complete with full sound and explosions.
Perkins got a job as a driver on the film Freejack, starring Emilio Estevez. When the filmmakers discovered that Perkins had an acting background, they gave him acting work on the film as well.
"I never thought of acting as a profession until I saw this huge production," says Perkins of Freejack. "I learned a lot of lessons from that experience." After moving to Los Angeles, Perkins found himself working consistently, starring in a number of horror films, most notably KatieBird *certifiable crazy person, winner of an audience award at the San Francisco Independent Film Festival. When Gandhi at the Bat wrapped, Argy and Boehm cast him in their next feature, The Red Machine.
Has Back Stage helped you get cast in the past year? We'd love to tell your story. Be in the weekly column by calling (323) 525-2358 or emailing bswcasting@ backstage.com with "I Got the Part" in the subject line.