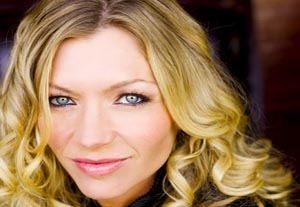 A transplant from Milwaukee, Leslie Ivarson moved to Los Angeles in June 2006 to follow her dream of acting, and after graduating from the American Academy of Dramatic Arts, she began pursuing projects. In January she saw a casting notice in Back Stage for
The Waiting Room
, a Columbia University student film being shot in L.A., submitted herself, and was cast as Hilda, a nurse. The film is about a procedure that takes the "essence" out of young girls and puts it into middle-aged women.
According to producer Justin Lerner, Ivarson was a good candidate because she seemed "flexible, easy to work with, and enthusiastic about the role, which is necessary and rare when you're doing a student film for little or no money." Ivarson, Lerner, and director Katharine O'Brien developed an immediate rapport through mutual interests. "These two were so…on my page and into the same movies I was into," says Ivarson, "we just sort of hit it off. It's definitely a steppingstone—one little step closer to more film, my first love, and hopefully, in the long run, television."
Working in episodic TV is Ivarson's ultimate career goal. "I am in love with shows like
Weeds, Californication, Nip/Tuck
, and
Grey's Anatomy
," she says. But her acting pursuits were inspired by the movies she watched as a child: "I was a little kid in the '70s and I grew up on all the old Disney cartoons and movies. I just really always wanted to be in the movies, and [it's] the medium that I was always in love with, but episodic TV is just kind of what I narrowed it down to, because of my type and what people have been casting me as. I'm usually cast as the tough, outspoken, telling-it-like-it-is kind of woman."
Ivarson is proactive about her career and has gotten good results from casting director workshops. "I know a lot of people think that you shouldn't pay for workshops to meet casting directors," she says. "But for me they've worked so far, and they're not that expensive."
Despite the responsibilities of raising a family, Ivarson is determined not to let anything get in the way of her dream. "I'm aware I started out kind of late," she says. "I'm in my 30s and I've wanted to do this since I was 7. However, being in the Midwest up until 2006 made it difficult. Right after my second son was born, my family and I had the chance to move to L.A., and we took it." The support of her husband and family helps her stay grounded in the face of a challenging career. "I couldn't ask for better support from all of them," she says. "They believe in me, and nothing could be better than that."
Has Back Stage helped you get cast in the past year? We'd love to tell your story. Be in the weekly column by emailing casting@backstage.com for New York or bswcasting@backstage.com for Los Angeles with "I Got the Part" in the subject line