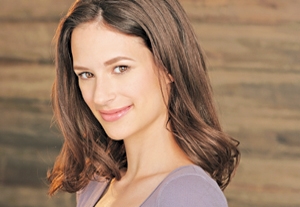 Is punctuality the key to booking the job? Well, that—along with being prepared and having diverse interests—certainly helped Lisa Keppel land the role of Helen Stanton in Chapman University's production of "A Question of Sex," a farce set in London in 1900.
Arriving early to the audition, Keppel unknowingly chatted up one of the producers she was about to read for. "We struck up a little bit of a conversation about ballet, because we had both done ballet in the past," Keppel says, "and we were talking about just the heat and random things." After realizing that this was one of the people she'd be auditioning for, "it kind of broke the ice a little bit," she says. "It made it a little less nerve-racking going into the audition."
As for her promptness, director Adam Fox says a director appreciates it "when you know that someone is there on time and is willing to make it rather than coming late or changing" the appointment. "It really helps when someone can stick to a specific schedule."
After Keppel had impressed the room with her punctuality, "We were really just blown away by her ability to hold her own," says Fox. "She's got great presence and really knows how to control the room. She had clearly done some good work in preparing. She wasn't coming in completely unaware. She already had an arc to the scene and definitely showed a great understanding and intelligence, and of course an intelligent actor is always a preference."
The role involved Keppel doing her first accent on stage, and having an Englishman directing certainly helped. "I really just learned off of listening to him," she says. "We adopted a rule that every time we entered the rehearsal space, no matter if we were on stage or if we were just talking casually, we would speak in the British accent." Other preparation consisted of watching a lot of the BBC and PBS series "Manor House" and "1900 House."
Fox wasn't a stickler for accuracy in the accents and made only modest corrections, not wanting the actors to be self-conscious. "You know how many different English accents there are, especially in Edwardian-era London?" he points out. "Who the hell knows how people spoke then?"
Keppel says she "really enjoyed" working with the director, "because we would be able to have conversations about the character and about the motivation for the character and just really discussing what life would be like if we were in the shoes of the character, and that was really very helpful for me."
And Fox was very pleased with the end result. "Ultimately our job is to put on something that entertains," he says, "that people will have a good time going to see, something that we're proud of, and I'm very confident that came out."
The only person who could stop Keppel from moving ahead in this field is herself, the director adds. "She has a vast array of talents. What will serve her best is her spirits, her open-mindedness, and her honesty. I think that she's got all the potential in the world, and I wish her the best."
What's next for Keppel? "I discovered with this show, my scene study class, and with some recent auditions that I'm gravitating more toward comedy, and I'm really enjoying it," she says. "I'm trying to look at my career from both angles, to develop myself not only as an artist but as a businessperson, pursuing the business as a business. I'm just going to keep at it one day at a time and just trust that God will bring into my life whatever is supposed to be there."
Keppel is currently seeking representation. For more on Keppel, visit
www.lisakeppel.com
.
Has Back Stage helped you get cast in the past year? We'd love to tell your story. Be in the weekly column by emailing casting@backstage.com for New York or bswcasting@backstage.com