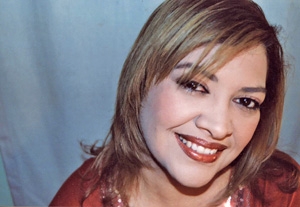 When an actor has a particular passion, the right casting notices can seem to jump off the page. Liz Quin has worked as a private tutor and substitute teacher, performs as a clown, and has a dream of hosting her own children's TV show. So when she saw the notice for "College Bound," part of GreatSchools.net's online video series designed to help parents enable and support their children in school, she was interested right away.
"I decided to submit for the part of the teacher," Quin explains, "since I have teaching experience. But when I went to the audition, [producer-director Michael King] told me he really liked me for the part of the mom, and that was great 'cause I'm a mom too, so I can relate to that part as well."
Quin was not what King had in mind when he went in to the casting session. "But when I got her on tape, I was like, 'Oh, wow. This is nice.' She was very real, very authentic, and maternal," he says.
Originally from Puerto Rico, Quin studied acting there before moving to Florida and attending the University of Central Florida and Valencia College, both in Orlando. "At Valencia College, I had an acting teacher named Jenny Croft; she was my role model. I learned a lot from her, and when I graduated, I decided it was time to move to L.A." While in Florida, Quin also spent time at Fun World Clown Alley and developed her clown character, Smiley Star.
"I really love children, so clowning is what I'm concentrating on right now. I wrote a book called 'Smiley Star's Magical Adventure,' which I'm in the process of publishing. I go wherever they call me: birthday parties, family picnics, and school field days. Or sometimes I work on Hollywood Boulevard, just to clown around with the other characters." But the clowning also has a serious side. "I have a lot of goals I want to accomplish. One of them is that I want to have my own show for children. I'm planning to do a bilingual show, to reach out to big children and small."
According to King, Quin has the work ethic an actor needs to reach her goals. "She was terrific, such a great sport, because we had what at the beginning of the day looked like a very reasonable shoot day that just went very long on a very hot day. We were standing offscreen with mounds of Kleenex to dab their sweating foreheads for hours. She was a real trooper."
Of course Quin didn't mind it a bit. "It was a long day," she agrees, "more than 10 hours, but it was worth it all the way. I got to do several scenes, changed clothes really fast, and had lots of lines, and for me that was pretty challenging and exciting. I'm proud of the result, and I know it's going to be very helpful for a lot of parents and teachers out there."
Has Back Stage helped you get cast in the past year?  We'd love to tell your story. Be in the weekly column by emailing  casting@backstage.com for New York or bswcasting@backstage.com  for Los Angeles with "I Got the Part" in the subject line.