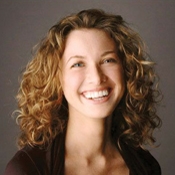 Role: Actor
Project: The Ecuador Project, a nonunion theatre ensemble
Lydia Pérez-Carpenter made two New Year's resolutions for 2008: to get an agent and to act abroad. Each Thursday, she scoured the pages of Back Stage East, highlighting, scribbling notes throughout, emailing, hoping to find something that would put her on the path to her goals. In mid-January, a casting notice for the Ecuador Project caught her eye. The project consists of six actors, a director, and a playwright who will travel throughout Ecuador this spring recording stories from native Ecuadorians; those stories will be turned into a play, which will then be performed for the people who shared them. "I certainly love the idea of theatre for social change, so when I saw this notice, I knew I wanted to apply," says Pérez-Carpenter, who has traveled to Ecuador before. "I was so eager to audition that I sent in my headshot and résumé that night."
A few days later, she was auditioning for the project's directors. "The audition process was as unique as the project itself," she says. "They gathered us into small groups and put us to the test -- writing, performing, sharing, and playing." Although she felt she had done well, she wasn't fully confident she would get the job. "I knew I was right for this project, but once I got there and saw the other actors, I realized that everyone was right for it," she says. "The notice really attracted quality people who were all interesting and dynamic, so I knew I had a bit of competition."
Because of the vast number of people auditioning, director Jesse Baxter was faced with some tough choices. "We were looking for a person first and an actor second -- someone who could bring alive a very inimitable piece of theatre," Baxter says. "Lydia's audition went really well, but it was her eagerness that really set her apart. From the very beginning, even before the audition process, she had sent us emails and phone calls and post cards. We knew that this was someone who really wanted to commit to this project."
Though Pérez-Carpenter is still on the hunt for an agent, she's grateful
to check off "Act abroad" from her New Year's resolution list. "I'm really excited to be a part of something as unique and interesting as this project," she says. "Let the adventures begin!"
For more information on Pérez-Carpenter or the Ecuador Project, visit www.lydiapc.com or www.dramaticadventure.com.
Has Back Stage West helped you get cast in the past year? We'd love to tell your story. Be in the weekly column by calling (323) 525-2358 or emailing bswcasting@backstage.com with "I Got the Part" in the subject line.