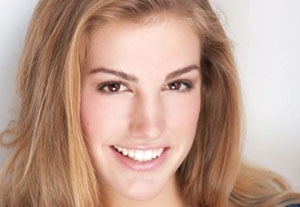 After moving to New York about three months ago and using Back Stage to attend as many auditions as possible, Maggie McGuire landed the role of Madeline in "The Mysterious Mystery of Mystery Street," a spoof of 1920s noir drama that will be performed Off-Off-Broadway at the Kraine Theater as part of Horse Trade Theater Group's 2011 Frigid New York festival.
Thrilled at having gotten her first lead role in a New York City production, McGuire thinks that approaching her audition as an opportunity to act, rather than as a struggle to impress the auditors, helped her get cast. "Once I realized that this was just a chance for me to engage in what I'm passionate about, even if just for a few minutes, the whole daunting nature of the audition went away," she says. "I had realized that it wasn't a life-or-death situation and that it was going to be fun."
According to writer-director Sergio Solorzano, McGuire's versatility and ability to commit made her audition particularly effective. "The role requires a sort of split personality. Maggie showed us a very cute and innocent side, but then was easily able to make the switch to aggressive and conniving," he says. "Her energy and ability to quickly adjust to direction definitely stood out."
McGuire was only 15 when she decided to pursue a career in musical theater, but after applying to 10 BFA musical theater programs throughout the country, she experienced a devastating setback. "Since my stress level and nerves were so high when I went into the audition room, I was unable to connect to the passion that I knew I had," she says. "I got rejected from nine of the programs and waitlisted at one. I was completely broken."
But she refused to give up and used the experience to improve her audition technique and change her outlook. "I told myself that one day I would prove that nine college rejections were not enough to stop me," she says. "I learned that stress, pressure, and self-doubt—even if it's a result of a deep yearning to get it right—is not going to get me anywhere."
After being accepted academically to New York's Pace University, McGuire—despite being rejected the first time—re-auditioned for the B.A. program in theater arts and was accepted. She believes that maintaining a positive attitude and remembering to enjoy auditioning will help her reach her goal of one day playing the lead in a Broadway musical.
"I am driven by a need to express myself on stage," she says, "and I am confident that I'm going to do that for the rest of my life, no matter what setbacks I face."
The Frigid New York festival runs Feb. 23–March 6. For more information, go to
www.frigidnewyork.info
.
Has Back Stage helped you get cast in the past year?  We'd love to tell your story. Be in the weekly column by emailing casting@backstage.com for New York or bswcasting@backstage.com for Los Angeles with "I Got the Part" in the subject line.