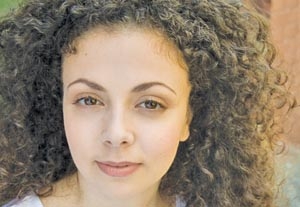 First impressions can make all the difference, and no one knows that better than Maria Niora. Born in Athens, Greece, she moved to New York City almost three years ago to attend the American Academy of Dramatic Arts, graduating in April. Her first impression of the city was that it was a lot like her hometown half a world away. "Noisy, dirty, people are rude, the weather—it's the same thing!" she says. "You just take out the tall buildings. I felt like home."
Niora grew up loving Shakespeare and speaking four languages, with a special affection, naturally, for English. She studied the Bard on her own and spent six months in Cambridge, England, taking a class in Shakespearean acting. While at AADA, she auditioned for Hamilton Clancy, artistic director of the Drilling Company, which produces Shakespeare in the Parking Lot, a summer series of free open-air performances, and got a callback for "Henry V." Niora didn't even have a proper headshot yet, but she showed up with "tons of personality and confidence," she recalls. And she made a strong impression.
"I was not expecting the ferocious commitment to the heart of the text that poured forth," says Clancy. "Maria is not tall, but she's a volcano of an actress. Her authority in her character is absolute." She had in spades what Clancy says he looks for in all actors—passion, commitment, intelligence, guts, and courage—but she just wasn't right for "Henry V" and didn't get cast.
On May 9, almost a year to the day after her first audition for Shakespeare in the Parking Lot, Niora got another chance. Just one of the many hundreds who showed up at Shetler Studios that day, the nonunion actor performed 10 lines from "Measure for Measure." "You do 150 percent and give it all out there," she says. "You have to treat the audition as a performance." As she was about to leave the audition room, she thanked Clancy for seeing her again. And that's when it clicked for him: This was the same actor who had wowed him a year ago.
"She was good, very good," he says, "but that wasn't enough. She had to remind me. At the end of the monologue, she was as polite and demure as the sweetest person you had ever met. So even when you've done everything, you still have to do more." Clancy cast her as Mustardseed, a mischievous fairy, in "A Midsummer Night's Dream."
Deep down, Niora had to believe she was a good actor, that she had the talent to make it in New York even though she'll never be the all-American girl. She simply trusts that there are parts out there for her. "It's really scary, because people judge you," she says. "They criticize you. You have to be ready. But they like to see people who are different. I take it as a good thing."
Has Back Stage helped you get cast in the past year
?
We'd love to tell your story. Be in the weekly column by emailing
casting
@
backstage
.
com for New York or bswcasting
@
backstage
.
com
for Los Angeles with
"I Got the Part"
in the subject line
.