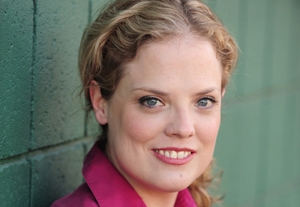 There are many reasons an actor may choose to audition for a role; one of the best is when the character's story strikes the actor as truly interesting. When
Meryl Nicole Taylor
read the casting notice for the TV pilot "Potluck" on backstage.com in August 2011, she decided to submit for the role of Nancy because she was struck by the subject matter.
"The words 'medical marijuana' piqued my interest," she says. "Nancy is described as being a cancer survivor and spokesperson for the people. It sounded really interesting and controversial." She submitted and was called in to audition. She was gratified that the producer was eager to help her by telling her more about the character and history behind the project. "He gave me the rundown on marijuana and how it's been used since the early 1900s," she says. "How it's been used by different groups of people like the Vietnam vets and then how people use it medicinally. Then when he gave me redirection, images of a couple people came to mind that I could use, and I went with one. It wasn't about marijuana; it was the emotions behind it that was really amazing."
The careful thought and attention to detail Taylor put into her work was immediately apparent to assistant director Karen Pezzuto: "[Taylor] came in prepared, had read the script, and was willing to take direction and to spend time talking with myself and [producer Alan Pezzuto]. Based on that she got some more character insight, so it was pretty certain that we were going to cast her."
It's not surprising that Taylor took the time to learn about the role; she is devoted to study as a means of honing her craft. "I love going to school, and I think it's because I come from a teaching family," she says. "I studied with
Howard Fine
; he is a wonderful teacher and a wonderful person, so personable and down-to-earth. I also studied under
Laura Gardner
, and she taught me about nerves on stage and how to work with them, and recently I've been studying under Bill Applebaum at the
Actor's Improv Studio
. He gave me a little guidance for the 'Potluck' audition, which was really nice. Because of his classes I was better able to focus yet still be free and open to suggestion." Taylor does more than just study. While much of her acting work is in television and film -- she is a member of SAG-AFTRA -- she combined her love of theater and children to create a solo kids' show, "The Secret Life of Mother Goose."
"I've performed it in the L.A. schools and also back in Seattle, playing three male characters and four female characters," she says. "I'm really proud of it."
Taylor's part in "Potluck" took only a few hours to shoot, and she felt great about the professionalism of the cast and crew. "It felt really natural working with them; they were top-notch, and it was actually really quick -- I think because they were all so good at what they did and they'd been doing that kind of work for so long." The appreciation was mutual. "She had her lines down, was very easy to work with, and she got along well with everybody on cast and crew," says Pezzuto. "We'd definitely work with her again. She was a joy."
Has Back Stage helped you get cast in the past year? We'd love to tell your story. Be in the weekly column by emailing casting@backstage.com for New York or bswcasting@backstage.com for Los Angeles with "I Got the Part" in the subject line.