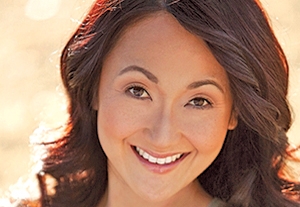 Dedication, fearlessness, and the ability to be in the moment helped Michiko Sasaki land the role of Sachiko in "Nightshift," a feature-length musical comedy to be shot in Cologne, Germany, this summer. The producers plan to apply for a Screen Actors Guild Ultra Low Budget Film Agreement.
"I had actually had several auditions before this audition on the same day," Sasaki says. "I think I was just in a state of frustration at the time, and I didn't really prepare myself to do it like I would normally.... I really just thought, 'I'm going to wing this.' "
The audition required a short dance, a song, and a monologue, and part of what made Sasaki's performance successful was her ability to improvise. She says she "screwed up" the monologue "a little bit, so I went ahead and just improvised, and once I started improvising, it took me to another emotional state…and that brought a whole other dimension to it."
Director Goetz Neumann agrees that her strong improvisational skills made her right for the project. "We really liked her acting; it really moved us to tears," he says. "We asked her to do some improvisations, and she handled them very well. She was prepared and very professional."
Originally a dancer, Sasaki was a chorus member in regional musicals, including "Grease" and "West Side Story," before getting cast in the national Broadway tour of "42nd Street" in 2004. After deciding to take some time off from show business, she severely injured her back in a car accident.
"I was in therapy for two years, and the doctors would say, 'Well, I don't know if you can dance professionally,' " she says. "And I thought, if I have such a passion for performing, I can't think that way…. I have to work on it and prove to everybody that I can be a performer again."
After working hard to physically rehabilitate herself, Sasaki studied acting at Florida's Burt Reynolds Institute for Film and Theatre with Richard Zavaglia and Reynolds himself. When she was ready to audition, she spent thousands of dollars to fly from her Florida home to every major audition she could attend in New York City. Her dedication finally paid off when she was cast as a Radio City Music Hall Rockette—several years after she was told she might never dance professionally again.
Since then, Sasaki has landed roles in film and TV, including a small appearance on "General Hospital" and a part in "The Pretend Wife," with Adam Sandler. She is a member of Actors' Equity Association, the American Federation of Television and Radio Artists, and the American Guild of Variety Artists, and is SAG-eligible.
Sasaki's spirituality and the encouragement of friends and family keep her grounded while she pursues her career. "I am a girl of pure faith, and that is my tool to everything," she says. "Everything happens for a reason, and that's because it's supposed to make you stronger."

Has Back Stage helped you get cast in the past year? We'd love to tell your story. Be in the weekly column by emailing casting@backstage.com for New York or bswcasting@backstage.com for Los Angeles with "I Got the Part" in the subject line.