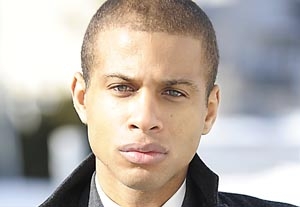 While perusing BackStage.com last summer, Milton Puzy came upon a casting notice for "El Baile," a nonunion short film focusing on the often volatile relationship between African-American and Latino teenagers in inner-city high schools. For Puzy, the project offered not so much a Method showcase as a chance to confront the not-so-distant past.
"I looked at the breakdown, and it just took me back to when I was in high school and what was going on back then," says Puzy, now 24 and repped by Wilhelmina. "It was a quick flashback, but it was, 'Oh man, I know I have to be a part of this.' " He immediately sent his information to the film's writer-director, Matt Kalafat, and soon found himself auditioning for the role of Tag, a bully intent on keeping the two groups as segregated as possible.
On his way to the audition, Puzy took an unfettered stroll down memory lane. "I just built up the arrogance I had when I was 17. I was like, 'Let me walk in there as me five or six years ago,' " the actor says with a laugh, recalling that even his calculated wardrobe of jeans and a tank top was period-accurate. To tap into the bully mindset, Puzy took a huge gamble. "My main objective was to intimidate the casting director," he says, "so as we're going on, I end up slapping the script out of her hand. That could have gone either way." He adds, "For almost a week I didn't hear anything, and I was like, 'Maybe I shouldn't have done that.' " It was a bold move that paid off for both actor and filmmaker.
"I thought that was awesome!" says Kalafat, who had been in an increasing state of panic, having unsuccessfully auditioned upward of 30 actors for the role of Tag. "Being a film nut, I've read all about the great auditions, and Milton did kind of the same thing. His walk did the talk," the director recalls. "When Milton came in, he had a fantastic look, but secondly, his behavior during the audition was perfect."
The respect for authenticity was mutual, and once he saw the full script, Puzy knew that the hot-button-issue film would not veer into afterschool-special territory. It became clear to him that his director, who happens to be a high school English teacher, had repeatedly witnessed the sometimes violent dissolution of interracial friendships from one grade to the next. According to Puzy, "There's no way you can read about it. You have to be there, and to know what's going on, to feel it and live it, and Matt did."
Since wrapping "El Baile," Puzy, who is nonunion, has landed multiple film roles, thanks in part to notices in Back Stage, including a background part on HBO's "Boardwalk Empire." However, he maintains that "El Baile" is his proudest accomplishment to date, because of the film's message. "We just wanted to show people that it's all right to be as one, you know? What's better than learning from a person you know nothing about?" Puzy asks, with a cool maturity years removed from his 17-year-old self.
Has Back Stage helped you get cast in the past year? We'd love to tell your story. Be in the weekly column by emailing casting@backstage.com for New York or bswcasting@backstage.com for Los Angeles with "I Got the Part" in the subject line.