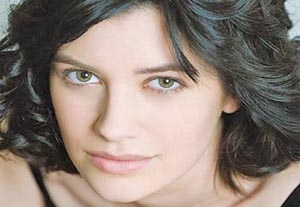 It's an actor's worst nightmare: drawing a blank in the middle of a monologue. And that is precisely what happened to Miriam Pultro during her audition for
Browncoats
:
Redemption
, a fan film based on Joss Whedon's space-Western TV series
Firefly
and its follow-up movie,
Serenity
.
The project would be shot in the Baltimore/Washington, D.C., area, and Pultro, a tremendous fan of the cult show, was thrilled at the prospect of participating in it. Better yet, the role she was auditioning for—Petra "Pete" Chen, a sassy, tomboyish pilot—seemed perfect for her. But when she forgot the second half of her audition monologue—midspeech, in front of the film's entire creative team—she was certain she'd blown her chance.
"I perform primarily in musical theater," says Pultro, who admits that she hates "performing monologues, since I do it so infrequently…. I was so nervous and anxious and excited, in fact, that my audition was pretty horrible."
Producer Steven Fisher remembers it quite differently. "She had a really good presence about her," he says. "She made us all laugh." She was easygoing and sociable, eager to share what drew her to the project, and aced all the questions posed to test her knowledge of the
Firefly
universe, he adds. "When she flubbed, she didn't break down. She just went, 'Yeah, yeah….' The character was someone who was confident…and didn't put up with a lot of B.S." As soon as she remembered her speech and coolly launched back into it, Pultro's "true personality" came out, Fisher says, and her subsequent cold reading convinced the room that she was the only one for the part.
In the past, Pultro, a Pennsylvania native who has been performing professionally for about a year, focused on music and musical theater. "It's where most of my experience lies," she says, "and I love singing, probably more than anything else in the world." But her first taste of film acting has been an exhilarating experience, she says, and being in front of a camera has "developed in me the confidence that I might actually be a good actress and not just a vocalist."
Fisher agrees, observing that Pultro has approached her role with intensity. "If I didn't know any better," he says, "I would think she'd been doing film for a long time." Appropriately, Pultro's next project is another film,
The Fay
, in which she plays a fairy; it shoots later this summer.
Browncoats
:
Redemption
was conceived and developed by Fisher and director Michael C. Dougherty and has already generated a lot of buzz among
Firefly
fans. It will premiere at Dragon*Con 2010, and the cast has been asked to take part in a panel discussion at the 2009 convention. The film has received the blessing of Whedon and is 100 percent nonprofit; all proceeds will be divided among five charities.
For more on
Browncoats
:
Redemption
, visit www.browncoatsmovie
.com. For more on Pultro, go to www.freewebs.com/miriampultro.
Has Back Stage helped you get cast in the past year?
We'd love to tell your story. Be in the weekly column by emailing
casting@backstage.com for New York or bswcasting@backstage.com
for Los Angeles with "I Got the Part" in the subject line.