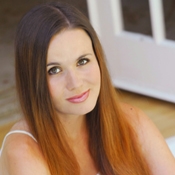 Role: Sally
Project: 'Sevenly,' a new musical
For musical theatre actor Molly Summer, getting work is all about the numbers. "The trick is to just be in as many places at once as you can," says the California native, who has been doing Equity musical theatre since she was 13. Her strategy paid off in January when she scored a recording gig and an agent -- both from notices in Back Stage West.
"January was really great," says Summer, who was cast as a lead vocalist for the new musical Sevenly and signed with the Daniel Hoff Agency in the same week. She was intrigued when she saw Creative Horizons' post seeking vocalists to sing material from its new musicals. Summer has sung plenty of classic Broadway fare, including A Chorus Line and Fiddler on the Roof, but craved novelty. "What I really love doing is recording new stuff," says the singer, a regular performer with the Academy for New Musical Theatre, a group that workshops new musical projects.
Shortly after submitting her demo, she received an email from Creative Horizons composer Mike Ricciardi, hiring her on the spot. "You have such an incredible voice," he wrote, inviting her to sing the role of Sally in Sevenly, a spoof about the end of the world. Intended to market the project to potential producers, the recordings had to be done by singers who could learn quickly and deliver professional results. Summer's credentials immediately caught Ricciardi's eye. A musical theatre performer since age 7, Summer attended high school at the Los Angeles-area Professional School for the Arts on a full vocal scholarship, then studied at the American Academy of Dramatic Arts. "We thought the résumé was marvelous," Ricciardi recalls.
Summer's experience and demo landed her the part of love-struck Sally, says Ricciardi, "but it was in the recording studio that she came out as being one of the most amazing singers I've heard." Her work ethic also left a lasting impression. "She's so pro," says Ricciardi. "She's always on time. She never complains.... Finding Molly was an absolute treasure" -- so much so that he's hired her to record two additional projects since Sevenly.
Summer's professionalism also wowed the Daniel Hoff Agency. The day after she was hired by Creative Horizons, Summer, a member of Actors' Equity and the Screen Actors Guild, auditioned for Nancy Abt, the agency's head theatrical agent. Looking to expand its musical theatre department, the agency wanted "amazing singers" interested in building their musical theatre careers. A mezzo-soprano with a three-octave range who also sings pop, gospel, and country, Summer fit the bill. After a second meeting, she signed with Abt.
Summer's early-2008 success hasn't changed her philosophy about exploring every opportunity. "I've found the best thing to do as a singer is research everything," she says. "Immerse yourself in all of the popular genres out there.... Be able to think on your feet, and know what they're looking for in a short space of time."
For more information on Molly Summer, visit www.myspace.com/msummermusic.
Has Back Stage West helped you get cast in the past year? We'd love to tell your story. Be in the weekly column by calling (323) 525-2358 or emailing bswcasting@backstage.com with "I Got the Part" in the subject line.
Brooke O'Neill can be reached at brooke.oneill@backstage.com.