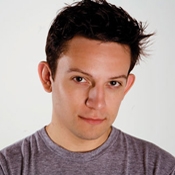 Role: Eugene Morris Jerome
Project: 'Biloxi Blues'
In the production of Biloxi Blues at the Complex in Los Angeles this winter, life imitated art. In the Neil Simon play a band of young Army recruits bonds at boot camp during World War II. When director Noel Williams assembled his cast -- half of which came through Back Stage West -- he had no idea how much the real-life camaraderie would enrich the production and the overall experience.
Actor Nic Stanich originally auditioned for the supporting roles of Carney and Hennessey, but then casting director Meridith Montgomery literally chased him down the street to ask him to read for the lead role of Eugene, played by Matthew Broderick in Mike Nichols' film version. Stanich read the part, and 20 minutes later he received the phone call telling him he had scored the lead.
"Nic was extremely intelligent but at the same time had this very young energy about him that was a lot of fun to be around, and he was inquisitive enough to be like a kid," Williams explains. "He was constantly working at the character, who in my opinion was the hardest character in the play to do, because he's the least flawed. [Stanich] had this constant energy about him that he showed up with every single day that really kept the rest of the cast on their feet."
Stanich, who kept a journal just like his character does, refers to Biloxi Blues as the best experience he's had as an actor, because of how strongly the cast bonded. From shaving their heads the first week of rehearsal to re-creating the scene in the play where they all share what they'd do on their last week on earth, the actors became thick as thieves. "You could tell, if you watched the play, we actually did care about each other, and that just made it that much better," says Stanich, a member of Actors' Equity and the American Federation of Television and Radio Artists. "We all got dog tags, and on them were our character's name, our real name, location our character was from, and 'Biloxi Blues 2007' on the back. We never took those off the whole time. Honestly, I still talk to all the guys now, months after it's over."
With all that testosterone, it wasn't surprising that tensions might rise during the stressful tech rehearsals. And when two particularly large cast members started yelling at each other, it was Stanich who stepped in to break up the fight. "Nic just kind of became the leader of the cast and made them realize what we were really there to do and how important it was and what it meant to be at our wits' end and how that was just totally worth it," Williams recalls.
"I kind of played moderator, but after they left I said, 'Noel, dude, I was totally in between these guys, and I could've gotten crushed!' " says Stanich, who earned a B.A. in psychology at the University of California, Santa Barbara. "As long as everyone's on the same page and having fun, it makes working on your craft and creating a whole lot more rewarding and easier."
Williams, for one, thinks Stanich, who also writes and directs, is capable of anything. "I think he's extremely talented," says the director. "I think he's got a long, great career ahead of him. I think anybody who gets the chance to work with him once is going to want to work with him again."
Has Back Stage West helped you get cast in the past year? We'd love to tell your story. Be in the weekly column by calling (323) 525-2358 or emailing bswcasting@backstage.com with "I Got the Part" in the subject line.