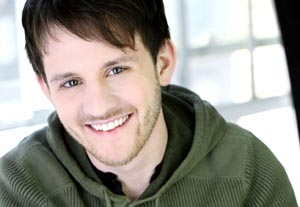 Nick LaMedica jokes that he could just be a professional "Romeo and Juliet" actor and work his way through all the roles he hasn't gotten to yet. After having appeared in various productions of the play as Prince Escalus, Benvolio, Peter, and the Apothecary, he was cast as Romeo for Shakespeare Miami after a particularly challenging audition—via webcam.
He was contacted by the director, Colleen Stovall, who had found his actor profile on BackStage.com. "A search of BackStage.com turned up a number of actors that she contacted," LaMedica says. "Somehow, after seeing my résumé and while looking for more information on me, she found a six-second YouTube video of me goofing around doing kung fu, saw that I didn't take myself too seriously, and wanted me to audition."
LaMedica chose a monologue from "The Two Gentlemen of Verona" that he thought would be a nice fit for Romeo. He set up his MacBook on the coffee table in his apartment, dressed and warmed up as he would for any other audition, and recorded the audition in the living room with his webcam. "I didn't have any time to edit or do anything fancy," he says, "so I just put it up on my website, linked Colleen to it, and hoped for the best." The audition was effective enough for LaMedica to land the role even before meeting Stovall in person.
After trying unsuccessfully to cast the part in Miami, Stovall had turned to Back Stage's online database to search for Shakespearean actors. "The audition process for the casting was unusual indeed," she says. "I was forced to look outside of Miami for a trained actor. I immediately went to the best source—Back Stage. Nick stood out among the other actors who had similar credentials. He looked younger than his years, had a great attitude, was up for an adventure, and carried himself in a professional manner."
Since graduating last year with a BFA from New York's Marymount Manhattan College, LaMedica has been cast in quite a few roles that he learned about through Back Stage, including Tod in "Return to the Onion Cellar" ("a dark rock musical" produced as part of last year's New York International Fringe Festival), several parts in Crash Theatre's production of "Romeo and Juliet," and a role in "Decoding Our Soul," a devised theater piece in progress for the Columbia University MFA program. He has also gotten work on the production end, on "I Am Damien," an independent film. He is currently rehearsing for his fifth production of "Romeo and Juliet," for New Jersey's Pax Amicus Castle Theatre, playing Tybalt.
LaMedica hopes to find a company to apprentice with or a program where he can begin earning Equity Membership Candidate points. "Ultimately, I know I want to teach, act, and direct, but for now I'm happy to be along for the ride," he says. "I am lucky enough to have a really supportive family that I love very much. They keep me centered, and it's always nice to know they're always in my corner."
Has Back Stage helped you get cast in the past year? We'd love to tell your story. Be in the weekly column by emailing casting@backstage.com for New York or bswcasting@backstage.com for Los Angeles with "I Got the Part" in the subject line.