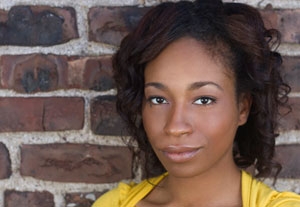 After submitting a video audition, Niecy Cerise booked the role of Casparella in "She Kills," a film that pays homage to the grindhouse movies of the 1970s. She found the casting notice for the project, produced by SRS Cinema and directed by Ron Bonk, on BackStage.com. Having been asked to play a scene from the film involving a séance turned exorcism, Cerise had to overcome several challenges.
"I always love the convenience of filming my own auditions, but at the same time, I hate it because while I'm taping it I actually wear all of the hats," she says. "The sides had an additional character reading with mine, and I couldn't find anyone to read with me." Not to be deterred, Cerise simply recorded the sides herself and acted out the scene with her own voice as the other character. "After I'd submitted my audition, I immediately got great feedback from the director, so I felt pretty optimistic at that point," she says.
Shooting the film was a novel experience for Cerise. Based in Connecticut, she was unable to attend rehearsals prior to the shoot, since the production was six hours away in Syracuse, N.Y. "Not rehearsing a scene until I'm on set is definitely new for me," she says. "This was my first time venturing so far away from home for a job but I wanted to branch out, and the character type and film genre was on my bucket list."
One of the aspects of the production Cerise enjoyed the most was the challenge of the genre. "Since the film is an homage to early grindhouse films, the dialogue can be sometimes both cheesy and a little vulgar, but I just had fun with it," she says. "I think that working on 'She Kills' has taught me that I can tackle dialogue that may seem ridiculous at first glance and make it my own and make it absolutely hilarious."
Cerise's training includes classes at One on One Productions, the Actor's Green Room, and Actors Connection; her previous film work includes the roles of Elise in "Empty," Nurse Delia in "Diamond Ruff," and a featured extra role in "That's My Boy," starring Adam Sandler and Andy Samberg. "[My character] gave one of the leads a pedicure," Cerise says.
Although her career is on an upswing, Cerise feels that previous disappointments made her more determined to pursue the type of work she wanted. "One of my very first film auditions was for 'Another Earth' that premiered at Sundance last year, and I shot a scene for it that was never used," she says. "I was so bummed about not making the cut, but it made me want to work harder so that one day I could make it there. Right now, I'm just going after everything but I really want to focus on more film work."

Has Back Stage helped you get cast in the past year? We'd love to tell your story. Be in the weekly column by emailing casting@backstage.com for New York or bswcasting@backstage.com for Los Angeles with "I Got the Part" in the subject line.