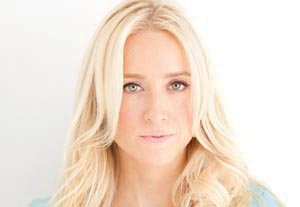 Nilla Watkins came to acting in a roundabout way. After graduating from law school, she joined the mergers and acquisitions department of the law firm Sullivan & Cromwell. But after two years in the legal trenches doing everything expected of her, she had the nagging feeling that she was overlooking her true calling.
While studying philosophy as an Ivy League undergraduate, Watkins had traveled abroad and taken a theatrical improvisation class at the Sorbonne in Paris. The experience stayed with her, and it soon became clear that it was time to act in the moment. Quoting the Irish poet and philosopher John O'Donohue, she explains her decision to leave law and pursue acting full time with the words "to waste my heart on fear no more."
The educational milestone that Watkins speaks most proudly of is her recent graduation from the two-year program at the Maggie Flanigan Studio in New York City, where she studied the Meisner technique. "My two years of study with her comprised two of the most rigorous years of study I've ever lived through," says the nonunion actor. "And I've lived through a fair number of years of study."
In her daily scouring of BackStage.com, Watkins came across a casting notice for Lenis Guess Productions' staged reading of a courtroom play called "Applaud the Devil, Praise the Lord," to be presented in the downstairs theater at New York's Drama Book Shop. "I've seen some shows at the Arthur Seelen Theatre before," she says. "It's a super-intimate space, and I like that." Also appealing was the plan to include audience participation.
Upon arriving at the audition, Watkins was asked by producer Lenis Guess to deliver her monologue directly facing him—a request that took her by surprise. But she followed the direction and delivered a prepared monologue a short distance from his face. "He stood up afterwards," she says, "and just shook my hand and thanked me for sharing myself. I couldn't believe it."
The strong reaction was mutual, as Guess remembers immediately turning over her headshot and writing "Lead" on the back. "She put a stare on me," he says. "It was almost, like, hypnotizing." The role he had in mind for her was Clara Wings, the devil's attorney, who represents him in absentia in the play. "I didn't know at the time that she's actually an attorney," Guess says. "She just had that flair."
Watkins also recently appeared in an episode of the award-winning Web series "Haywire" and completed production on the short psychological thriller "The Ribbon." For the moment, she is taking a break from classes.
Watkins is currently represented by Aaron Anderson of Magenta Creative Management.
Has Back Stage helped you get cast in the past year? We'd love to tell your story. Be in the weekly column by emailing casting@backstage.com for New York or bswcasting@backstage.com for Los Angeles with "I Got the Part" in the subject line.