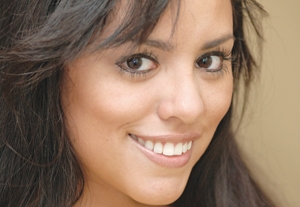 Every new opportunity can give an actor a chance to do something he or she hasn't before. Such was the case for Patty Rivera, who got to do her first onscreen kiss when she was cast this summer as a teenage Latina in director Johnny Carbajal's SAG film "Spanish Fly."
Rivera started subscribing to BackStage.com in June, submitted her headshot online for the "Spanish Fly" casting call, and got an audition. "No other website has done what Back Stage has done for my career," she says. "In three weeks, I got a call from the casting director for 'Spanish Fly.' " The short is a lighthearted comedy about a "Latino household told from the point of view of a fly that comes in and captures the conversations and personalities of everyone involved with this family," according to Carbajal.
Rivera originally read for the part of an older woman trying to tell her parents she is moving in with her boyfriend. But Carbajal thought she looked too young for that part, so instead he cast the 23-year-old, who can easily play 18, as the "teenage kissing girl" in the film.
The character has to passionately kiss her boyfriend in one scene. Rivera met the other actor at the first rehearsal. "I already had my lines memorized, so I went in and told [the producer and director] what I thought about the scene; they in turn showed me their point of view, and we worked together," she says, shrugging off the fact that it was her first onscreen kiss. "This is work. I'm an actress, so I want to maintain a professional attitude about roles that I do." Carbajal notes, "Patty has a strong presence, and it was a joy working with her."
A former beauty-pageant participant, Rivera now models in addition to acting. She is taking four acting classes and seeking representation. She has been cast in other productions through Back Stage, and she auditions "at least three or four times a week," noting she usually gets called back. "Even though I am a new actress, thanks to Back Stage, I am able to stay a step ahead," she says. For more on Rivera, visit
www.pattyrivera.com.
Has Back Stage helped you get cast in the past year? We'd love to tell your story. Be in the weekly column by emailing casting@backstage.com for New York or bswcasting@backstage.com for Los Angeles with "I Got the Part" in the subject line.