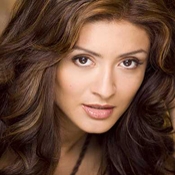 Role: Giselle Molina
Project: 'L.A. Proper,' a romantic comedy film
Some actors are so convincing in certain types of roles that they have to avoid being typecast. There are two types of roles actor-model Rachel Delilah Matos has booked consistently: "It's either somebody who's been through a lot, like the wife or young mother who's kind of had to sacrifice. And then you get the role where they need to establish a story with having the attractive girlfriend or [love interest]. The one role that I did get that was neither was in L.A. Proper."
That project was originally described in the Back Stage casting notice as "a gritty romantic comedy about six multiracial friends who maintain a breakneck party schedule and, at the same time, try to find love, work, and happiness in socially schizophrenic Los Angeles." The character she auditioned for was a Mexican-American assistant press secretary named Giselle Molina who, while fighting for immigration rights, finds herself in her own immigration battle.
"A lot of the way you see Hispanic women portrayed in movies and TV, there's a very narrow scope they're allowed to play," explains Barry Canty, the film's producer, writer, and director, who also appears in the film. "So I just wanted to show a normal, well-educated Hispanic woman. When Rachel came in, I said, 'You're just a character who has this job and just happens to be Hispanic, which is the way things fall in real life.' "
Matos says Canty instructed the actors not to play into any kind of stereotype. She says he wanted Giselle "to be strong and intelligent and unattached and trying to do whatever anybody in their 20s is doing and just searching for bigger career opportunities." For Matos, it was the sides -- not the breakdown -- that got her attention.
"There was a monologue that really meant something to me," recalls Matos, a Puerto Rican New Yorker. "When I read the monologue, Barry was like, 'Finally. Somebody came in and knew exactly what they were talking about when they read that monologue.' "
Matos is the only actor in L.A. Proper whom Canty had never worked with before. "[She] was great," says the filmmaker. "The character is so far from her natural personality. She brought a lot that I wasn't expecting her to bring to it. I really had a good time with her." Canty locked picture in November, and he's waiting to hear back from the various summer and fall film festivals.
The bilingual Matos, who attended the School of Visual Arts in New York, belongs to SAG. She is managed by Midwest Talent and represented theatrically in Orange County and San Diego by Artist Management and commercially by Brady, Brannon, & Rich. As a model, she's represented by Clear Talent Group and Peak Models. Matos is currently seeking theatrical representation in the L.A. area, and hopes to one day become a series regular on a CSI-type prime-time series. For more on Matos, visit www.rachelmatos.com.
Has Back Stage helped you get cast in the past year? We'd love to tell your story. Be in the weekly column by calling (323) 525-2358 or emailing bswcasting@backstage.com with "I Got the Part" in the subject line.