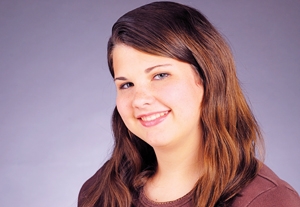 Rachel Diamond's story is a familiar one. "I was kind of a showoff as a little kid," she says. "I was always writing little shows for my sister and I to put on. As I got older, I just loved to perform."
Following her calling led Diamond late last year to a casting notice on BackStage.com for an Equity production of Tom Dudzick's "Over the Tavern" at the Montgomery Theater in Souderton, Pa. "When I read the description of Annie," she says, "I just thought this was me."
Sixteen-year-old Annie, the eldest of four siblings living in a dysfunctional Catholic home above their father's tavern, endures many emotional changes as she struggles to improve her family's life. Although Diamond is 19, she tends to play a lot of younger characters and can pass for as young as 14, she says: "It gets a little annoying to look younger than I am, but when I have the chance to play someone like Annie, I feel like I can still represent her."
Diamond auditioned with a short comic monologue from Casey Kurtti's play "Catholic School Girls"—her all-time favorite monologue, she says—and booked a callback. Director Tom Quinn was looking for an experienced actor to play Annie, and after seeing Diamond's picture and résumé, he hoped she would be a front-runner. "She is the hungriest of young actors that I have ever met," he says. "I was sure she was heads above the other potential candidates."
But Diamond's audition left her in doubt. "It was just such a big theater," she says, "and it was my first audition for an Equity show. It just didn't seem like my chances were very big of getting the role, even though I felt like she was me. I was very shocked and excited to be offered the role."
So what impressed Quinn the most? "She has a humble charm about her," he says. "She lives every minute of her life obsessed with the performance and is in love with the art form."
Originally from Bainbridge, Pa., Diamond attends Arcadia University, outside Philadelphia, and is eager to continue exploring the worlds of theater and film. She is enthralled with bringing characters to life. "I love the moments where you feel like you are the character," she says. "They're not even lines coming out of your mouth, but you are speaking them. You are in a moment in their life. It's a very intoxicating thing."
Has Back Stage helped you get cast in the past year? We'd love to tell your story. Be in the weekly column by emailing casting@backstage.com for New York or bswcasting@backstage.com for Los Angeles with "I Got the Part" in the subject line.