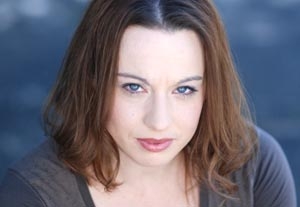 Rachel McLaughlan dove into her routine of looking through casting notices in Back Stage. She searched with mouse clicking online and pen circling in print.
Performance Riverside's notice for its production of Kander and Ebb's whodunit musical "Curtains" caught her eye. She had worked with and loved the Southern California theater company as an ensemble member in "The Unsinkable Molly Brown" and "The Sound of Music," jobs she found through Back Stage. Now the company was casting a role outside her comfort zone: a leading lady.
"I'm a dancer, so I get a lot of chorus roles," McLaughlan says. "This is a first time stepping out." She became familiar with "Curtains" by listening to the original cast recording, then watching a performance with David Hyde Pierce on the Tony Awards telecast.
Performance Riverside's producing artistic director, Rey O'Day, certainly noticed the hopeful chorus girl. "Rachel was the person to beat," O'Day says. The role of Georgia calls for a classic triple threat, and the audition process quickly weeded out the nondancers. "It is a heavy dance show," McLaughlan says. "The first things we had to do were cartwheels on both sides, then jump into a split. I was so happy that I had done yoga earlier."
She was called back to sing, then to read. Little did the dancer know, however, that her beloved theater company had been carefully watching her since way before the cartwheels-into-splits of this audition.
"Each time, Rachel brought a real triple-threat set of skills," says O'Day of McLaughlan's previous performances with the company, "as well as a real character, whether she's in the ensemble or in a specific part. You see that and you begin to think, 'Okay, what can they do next?' " When McLaughlan played Frau Schmidt in "The Sound of Music," the artistic director says, "she made lines that are beige and written in cardboard come to life and be funny in a very natural way, but she never got in the way of the story. So we all looked at each other and went, 'Hmm. This girl's got chops.' "
After winning the role, McLaughlan entered an intense rehearsal period. "On the first day, I realized my character sings almost every song in the show, so it was a very involved rehearsal with the musical director," she says. "The second day was all dance." O'Day calls the rehearsal process "a very focused three and a half weeks."
Originally from Northern California, McLaughlan attended the American Musical and Dramatic Academy in New York, thereafter getting cast through notices in Back Stage. She performed with several dinner theaters—"I've done 'em all!" she says—and sang with Big Bird in national and international tours of "Sesame Street" for four years. But she missed her home and recently moved to Southern California.
"Moving back home allowed me to still pursue my dream and be close to family," McLaughlan says. "You can't have theater be your whole life. Being close to my family actually makes me a better performer. The freeway was the one thing they warned me about. I got a lot of good books on tape."
About moving back to California, she adds, "Aside from family, I didn't know anybody. Back Stage was my saving grace." Says O'Day, "Back Stage, you are how she found us." We welcome her home.
"Curtains" runs April 1–10 at the Landis Performing Arts Center in Riverside, Calif. For more info, go to
www.performanceriverside.org
.
Has Back Stage helped you get cast in the past year? We'd love to tell your story. Be in the weekly column by emailing casting@backstage.com for New York or casting@backstage.com for Los Angeles with "I Got the Part" in the subject line.