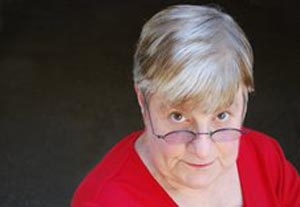 Some folks save their true passions for after retirement. Ria Erlich always knew deep inside that acting was her calling, but she kept putting it off in favor of a "real" job. So when she was cast as Mrs. Bellotti in Theatre Palisades' production of
The Hot L Baltimore
after 30 years away from the theater, the role felt like a sweet, satisfying dessert for her. To prepare for the audition, Erlich read the play and had her husband take photos of her that she printed out on her home computer as her headshot.
"I remember being absolutely terrified because I had not acted since the early 1970s," says Erlich, who held positions in publishing and public relations, and even wrote Saturday morning cartoons for Hanna-Barbera. "As soon as I got up on the stage, I wasn't frightened anymore. That really told me something. I read for three roles for what I like to call 'women of a certain age.' And I really did want Mrs. Bellotti."
The Hot L Baltimore
—the "e" light bulb burned out—is a play about a soon-to-be-demolished hotel and all its colorful residents. Mrs. Bellotti spends the duration of the show moving her bad-seed son's stuff out of his room. Seven other actors were vying for the part, but director Lewis Hauser knew Erlich was exactly the one he wanted.
"I could tell Ria wanted the role and studied it, because when she read it I got the humor and the pathos," recalls Hauser. "She took a part that could be the most obnoxious thing in the world on the page and made you like it. That was her magic. Ria made it charming and funny in a very sad sort of way. She took this role and made it a little gem." Since her return to acting, Erlich has had to take a few breaks due to family emergencies, but she is eager to start auditioning again after July 1.
"I've been doing acting, like I call it, 'in between the raindrops,' if there are things I can audition for that don't conflict with being available to my family," she says. "I notice when you go out for something when you're almost 62 as opposed to going out for something when you're in your 20s or 30s, I don't take it as personally as I used to when I get rejected. Fortunately I am in a position where I don't have to make a living at this. I really want to do it, but I can honestly say I'm doing it now for the absolute sheer pure unmitigated joy and love of acting."
Erlich made such a good impression on Hauser that he has since cast her in two other Theatre Palisades shows:
The Boy Friend
and
You Can't Take It With You
. However, Hauser still makes all his actors audition, even the regulars, and Erlich is thrilled to be counted among those now.
"Lew and I seem to be a very good fit in terms of actor and director," says Erlich. "He directs shows that I like, and I like to go out for him and I love being directed by him." Hauser adds, "I'll be directing a play after
Smokey Joe's Cafe
, and Ria already contacted me, and I said, 'Come on down.' "
"Acting, for me, is the biggest natural high in the world. I especially love comedies because the only thing that's better than applause is getting a laugh," explains Erlich. "I want to encourage everyone to come out and support community theater in Los Angeles because there is just an extraordinary amount of talent, and the productions are very good, at least the ones I've been in."
Erlich is currently seeking representation and she can be reached through her profiles on Casting Networks and Actors Access. For more on Theatre Palisades, visit www.theatrepalisades.org.
Has Back Stage helped you get cast in the past year?
We'd love to tell your story. Be in the weekly column by emailing
casting@backstage.com for New York or bswcasting@backstage.com
for Los Angeles with "I Got the Part" in the subject line.