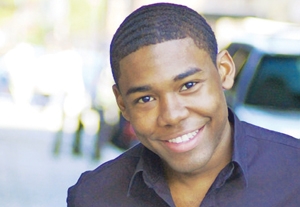 Richard Crandle didn't even have a headshot when he decided to audition for the national tour of "Hairspray." He also had no formal dance training and had never been on a professional audition—he'd never even come to New York City from his home in Lawrenceville, N.J., by himself. But he put all that aside because Seaweed, a cool, street-smart dancer, was his dream role.
Last year, Crandle was on his summer break from Westminster College of the Arts, where he is a music theater major, and feeling bored. He found the casting notice for "Hairspray," produced by NETworks, on BackStage.com and immediately spotted the role he'd wanted since the movie came out. Crandle was a self-described "broke college student with no car," lacking even the money to take the train into New York. A friend offered a ride, another friend with a nice camera took his picture, and yet another put him up in the city.
"I had already missed the singers call, so I had to attend the dance call," Crandle remembers. "I was paranoid. I had never been on a train before. So I go, I dance, and didn't totally bomb!" As the performers were divided into smaller groups to learn dance combinations, Crandle kept telling himself to breathe, relax, and stay centered. After that, he sang his prepared piece, "Mama Says" from "Footloose."
Crandle, a tenor, has received vocal training from Thomas Faracco, his voice teacher since just after freshman year of high school. "He was so passionate about being the best he could be, never settling for anything less than his personal best," Faracco says. "I think that's the mark of a true performer."
After several callbacks—and several more anxious trips on the train—Crandle got the call that he'd been cast. He thought he'd been cast in the ensemble. But the part was Seaweed. "I went nuts!" he says. Then he embarked on a 17-week tour that hit cities in California, Texas, Florida, Maryland, New Jersey, Pennsylvania, and even Ontario, Canada, among other places. The nonunion performer took a semester off to become the youngest person, then 19, ever to play Seaweed.
"The experience was amazing, and I have learned so much about myself and the business," Crandle says. "You have to pay your dues everywhere. Natural abilities can get you so far, but you have to work for it."


Has Back Stage helped you get cast in the past year? We'd love to tell your story. Be in the weekly column by emailing casting@backstage.com for New York or bswcasting@backstage.com for Los Angeles with "I Got the Part" in the subject line.