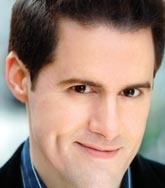 Role: Malcolm
Project: A regional production of 'The Full Monty'
Ron DeStefano was going to be a chemist. A native of West Palm Beach, Fla., he'd dabbled in musical theatre in high school and college, and only took a job doing summer stock in upstate New York in the mid-1990s to say goodbye to performing before moving on to graduate school at Rutgers. But then he realized he was only passionate about one thing: being on stage. He chucked grad school, headed to New York City, and never looked back.
Acting buddies from Florida State University who had moved to the city pointed him toward Back Stage. "I just started auditioning for everything, at least an audition every day," DeStefano recalls, "Student films, showcases. If they wanted black women, I would show up!" He booked a reading, then a regional production of Scrooge, then a six-month European tour of Evita, then a Royal Caribbean cruise for Tokyo Disney. He saw the call in Back Stage East for The Full Monty, which ran July 15-27 at the Alpine Theatre Project in Whitefish, Mont., last spring and emailed his headshot and résumé.
"If I see a show I feel I'm right for, I'll send in an envelope and just say, 'When you're seeing people, put me on the pile,' " DeStefano says. "Just keeping my picture out there has definitely led to a lot of auditions."
Unbeknownst to him, a few of the actors already cast in The Full Monty had worked with him before, doing theatre in Baltimore, and they gave him a good recommendation. He next sent in a reel containing his rendition of "Not While I'm Around" from Sweeney Todd, got the part, and headed to Montana to start the five-week contract.
DeStefano, a member of Actors' Equity since 1997, estimates that 90 percent of his acting jobs have been in regional theatre, allowing him to work in diverse projects with different creative visions, hone his skills, travel, and make important and lasting connections. He once obsessed about being on Broadway, but the pursuit never made him happy. "I got sucked into the Broadway dream," DeStefano says. "So I only auditioned for those projects, and all of a sudden I didn't have any work. I floundered around for a few years. But then I went back and thought about my key to success when I got here. I moved to New York not knowing what the dream was. I just knew I loved to sing and dance."
Have you scored an interesting role recently thanks to a casting notice in Back Stage? If so, email your story and your headshot to casting@backstage.com with the subject line "I Got Cast!"