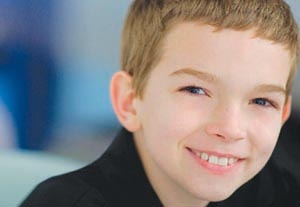 Last September, when 10-year-old actor Sebastian Hagelstein boarded a plane from his hometown of Tampa, Fla., to New York City to attend his first major audition, his primary goal was to gain experience. After reading for the part of shy, lisp-prone Winthrop Paroo in "The Music Man," Hagelstein earned the role in the Windwood Productions national tour.

"I was really excited and surprised, actually," he says. "I didn't expect it at all."

But with four years of experience acting in community theater productions, including recent roles in "The Music Man" and "Oliver Twist," Hagelstein was ready to take his chances in the Big Apple. "I figured I had done enough local shows," he says. "I wanted to get the experience of being a part of a big one."

When he entered the audition room, Hagelstein immediately charmed casting associate Lara Hayhurst. "There's a simplicity about him," Hayhurst says. "The best kinds of actors have really great instincts on their own. He didn't seem to be overcoached or overdrilled. There's genuineness about him."

Hagelstein approached his audition with the ease and comfort of being himself, according to Hayhurst. "I remember one moment from the audition that really tickled us," she says. "He was doing 'Gary, Indiana,' and while he was singing he gave us this huge thumbs-up sign. We were all cracking up. He was so sweet, I'll never forget it."

New York was only the start of this young actor's journey. He is now finishing his first national theatrical tour, traveling with his mother, Georgia Hagelstein; a tutor; and a professional company to 80 cities in four months. His mother subscribed to Back Stage based upon a friend's recommendation and began searching for casting notices for her son.

When she read the notice for "The Music Man," she was committed enough to her son's dream that she flew to New York with him and was willing to put her own career on hold if he were cast. "Luckily, my employer decided to let me take the four months off," she says. "I was probably going to do it either way, if I kept my job or not. If I had to come back and get another job, I would just do that.

"It's phenomenal to see him do these things," she adds. "I would never do this in a million years."

Since venturing beyond the local theater scene, Hagelstein has decided that he wants to pursue acting as a career. He was especially interested in seeing the different theaters in each city. Plus, he learned a valuable lesson: "On the road," he says, "I've learned to be nice to the other actors and they will be nice to you."

Has Back Stage helped you get cast in the past year? We'd love to tell your story. Be in the weekly column by emailing casting@backstage.com for New York or bswcasting@backstage.com for Los Angeles with "I Got the Part" in the subject line.