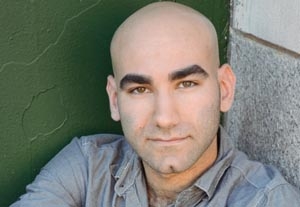 When Sergey Nagorny saw the casting notice for "The Lost and Found Project," an experimental play compiling family stories relating to Russian-Jewish immigration to the U.S., he had no doubt he had to audition. As an actor from the Ukraine with a Jewish background, Nagorny knew that his personal experience would be particularly relevant to the project—and a little thing like being unavailable during the auditions was not going to stop him from getting cast. After he explained the situation to the production team, it agreed to let him audition on the first day of rehearsals. If cast, he would join as an ensemble member then and there.
"I went in with the thought that I had to win them over, since it would be great to jump right into rehearsals that same day and would not be great at all to be told 'No, thank you' and walk out as everyone else in the cast was coming in to rehearse," Nagorny says. "I was a bit nervous, as the writer herself was in the room to hear her words performed.... It wasn't the matter of making it real, as it was as real as it gets to me already," he explains. "It was the matter of making sure to stay true to the text and making the audience see how truly close to home, and my heart, the piece was." After waiting while the production team deliberated, Nagorny was welcomed into the cast as the final member of the ensemble. Co-producer Marina Reydler says Nagorny's charisma and preparation made his audition successful. "Sergey has a very big personality that comes through when he walks in," she says. "He was also prepared to do his callback monologue,…so he already came in with the bar set high, and he reached it."
Nagorny says the developmental nature of the project is an unusual aspect of the experience. "I am able to see all of the steps it takes to produce a play from its very beginning," he says. "You come together as 10 individuals, and by the time the project is ready to be put up, the 10 become one." Nagorny's experience includes "J-1," an independent short, and a Phiten bracelet commercial with N.Y. Knicks player Carmelo Anthony. He is represented by the agencies Abrams Artists and Paradigm.
Nagorny is determined to keep pursuing his career with fearlessness and enthusiasm. "I was given a blessing by my parents, who told me that if this is what I have chosen to do, then I must do it full-out and without holding back," Nagorny says. "I am pressing on with those words ringing in my head."
Has Back Stage helped you get cast in the past year? We'd love to tell your story. Be in the weekly column by emailing casting@backstage.com for New York or bswcasting@backstage.com for Los Angeles with "I Got the Part" in the subject line.