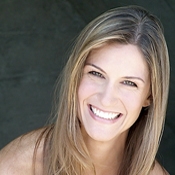 Role: Edie
Project: I Hate My Friends at the San Francisco Fringe Festival
When actor Shari Gulley spotted a Back Stage West casting notice this summer for I Hate My Friends, a play premiering at the San Francisco Fringe Festival, she knew she was ready for the challenge. "It seemed like it was a smaller production where I could shine as a lead character," says the actor. "I knew I was really interested in building chemistry with just a couple of characters rather than [being in] a bigger production."
Director Erica Blue was sure Gulley was a talented actor, but it was Gulley's personality that won her the lead. "Shari has a really wonderful personality, and that came through on her very first phone call," says Blue. "She struck me as a woman who knew what she wanted, had really good energy, and was very positive. From the moment I met her I felt like she was a friend -- somebody I've known forever."
Gulley has been an actor since grade school and studied acting in college. Yet when she was faced with a personal tragedy, her interest in the craft all but vanished. "When my father died, I [became] one of those students you did not want to have in class," she says. "I was the scene partner that you did not want to have. It was like I was just there because I felt like I had to be. I would not learn my lines. I wouldn't do anything."
The actor explained that it was meeting acting teacher and mentor Richard Lawson three years ago that pulled her out of her slump. "He was the one who put the passion back in me; he got rid of my old demons," Gulley explains. "I was able to work through what I needed to work through during that time of mourning for my father."
Gulley's experience with the San Francisco Fringe Festival was her first step toward getting back her creative joie de vivre. "I felt like there was some creating that all of us could do," she says. "In fact, the writer [let me] and one of the cast members, Jeff Dooley, have a lot of say in the script." Gulley's newfound passion has made a difference in her craft, and since then she has booked several TV roles, including on NBC's Passions and Nickelodeon's Just Jordan. For more information on Gulley and her upcoming projects, visit www.sharigulley.com.
Have you scored an interesting role recently thanks to a casting notice in Back Stage? If so, email your story and your headshot to bswcasting@backstage.com with the subject line "I Got the Part!"
Nicole Porter can be reached at nporter@backstage.com.