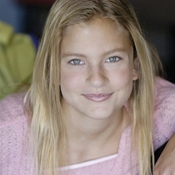 Role: Female Intern
Project: 'The Editor: A Man I Despise'
Part of acting, of course, is having the ability to portray characters of various ages. When director Adam Christian Clark was looking to cast the part of a 22-year-old female intern who was "sexy in a 1940s kind of way," none of the 20-something actors he saw fit the bill. That was until he came across 13-year-old Shauna Rose Davis' headshot.
"We weren't trying to cast a modern-day 22-year-old," Clark says. "We were trying to cast a 22-year-old out of a 1940s-type film. Maybe that's due to the fact that women have changed or are maturing so much faster now than they maybe were in the '30s and '40s. At 13, [Davis] was able to kind of fit the persona that we were looking for much better than anybody who was actually in their 20s." Clark loved Davis' look and bone structure so much that he cast her from her picture alone.
"He thought I could pull off being older," Davis says of her film debut. "When [my mother and I] went to the cast party and I saw myself [in the film], I did not recognize myself at all. I looked so much older." The black-and-white short, The Editor: A Man I Despise, is adapted from Pulitzer Prize - winning journalist Charlie LeDuff's short story about jaded reporters. In it, Davis plays an idealistic intern at The New York Times who performs mundane tasks like getting the editor (played by veteran actor Richard Riehle) tea and coffee.
"[The editor] kind of vicariously lives through her. She's the source of his depression, because he is able to see such vibrancy and youth in her and sees something that he's no longer capable of embodying," Clark explains. "I think [Davis] was the second-best actor in the whole thing next to Richard, and we had other recurring TV actors who had been acting all of their lives. She was a good energy to have on set. She's able to take direction really well and is good with her lines. I hope we can work together in the future. She seems to be somebody who's doing it by her own will and not because her mom is making her, so that's good."
Davis' mom, Nancy, calls her daughter a "miracle baby," because "she had less than 1 percent chance of survival." When Davis was born, on Rosh Hashanah, her mother was on dialysis and had no kidneys; she has since had a transplant. Originally from Oklahoma City, Davis started acting at age 8 and is SAG-eligible. She attends acting classes at TVI Actors Studio and is repped by Bicoastal Talent Agency. Davis was the 2007 Easter Promo Poster Girl for Glamour Shots and has appeared in episodes of Weeds, Cold Case, and Medium. She aspires to have a career like her role model Reese Witherspoon and looks forward to playing a mean, spoiled girl someday. "That would be really fun," Davis says. "I'm looking forward to lots of hard work on new projects, roles, and characters." For the film's trailer, visit www.adamchristianclark.com.
Have you scored an interesting role recently thanks to a casting notice in Back Stage? If so, email your story and your headshot to bswcasting@backstage.com with the subject line "I Got the Part!"
Cassie Carpenter can be reached at ccarpenter@backstage.com.