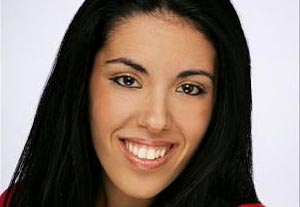 "I knew it would be a challenge playing two characters in one play," says Sivan Hadari, "but I thought I could pull it off."
It was a hot day in May when the nonunion actor auditioned for "My Pal Bette." The casting notice, which she saw in the April 23 edition of Back Stage, asked for one actor to portray both music diva Cher and stereotypical Jewish mother Carol Klein. Hadari first auditioned as Cher, then was asked to come back an hour later, this time as the kvetching, middle-aged Carol. "So I went to a diner around the block to grab a bite," she recalls.
After eating, however, Hadari began to doubt whether she could do it. "I had just done well as Cher, but I had to go back as Carol. How was I supposed to do that?" She had everything she needed for a convincing Cher—long black hair, singing ability, and a spunky disposition—but Hadari is rather too young and lighthearted to play the suffocating mother of a 10-year-old. After mulling over her predicament for a few minutes, she gathered herself and made a choice.
"I decided to go all out and put everything I had into it, despite the risk," she says. "I went into the bathroom and pulled out my fully loaded makeup case. I put my hair up in a bun, applied layers of purple and blue eye shadow, blush, and lipstick everywhere. Oh my God, I looked hideous, but I was Carol." When she exited the bathroom, the diner patrons couldn't believe their eyes: The pretty girl in a sundress was now an over-the-top Jewish mother.
Hadari walked briskly around the block, and as she opened the door to the room where director Kenny Howard sat waiting, she decided to take another risk. "In my best Long Island Jewish-mother accent," she says, "I blurted out, 'Oh my Gawd, I'm shvitzing like a potato knish on a hot plate, it's so warm out there!' " Her gamble paid off as everyone burst into laughter.
Howard remembers the moment well: "She was funny when she came back. She knocked it out of the park. We cast her on the spot." Going into the audition, he was worried that he'd be forced to settle for one character being portrayed better than the other. "But Sivan was great as both," he says. "She has lots of energy and always wears a smile. It's infectious."
Hadari believes that her success in landing the parts validates two very important aspects of her lifestyle: a tendency to take risks and a love of humor. "For me, it's about having fun, laughing, and enjoying what I do," she says. "If you can't do that, then what's the point?"