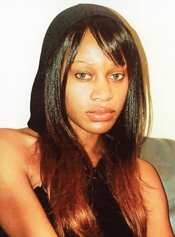 Role: Stavellie, an orphan
Project: 'Chepachet,' a nonunion independent film
Stavellie Salomon was not supposed to be an actor. In fact, the Scotland native and youngest of 12 children has spent most of her life trying to live up to her family's desire that she be a doctor. But after two years of premed at Princeton, she decided she just couldn't live that lie. "I wanted to be in show business," Salomon says, "but no one really supported me. I didn't want to disappoint my dad, so I stayed in school. [But] I want to work as an actress."
She returned to Scotland but felt alone, as if she were running away from what she really wanted. So two years ago Salomon decided to strike out on her own. She bought a plane ticket for New York City and returned to the United States with one thought in her head: "Hopefully, I don't fail."
Stateside, Salomon set up a website, did some modeling, worked on taming her thick Scottish accent, and tended bar. But when it came to pounding the pavement for acting jobs, she admits she was lazy. "I thought luck was on my side and something would happen," she says. "And nothing was happening." That's when she immersed herself in workshops and crash courses in the craft of acting and started picking up Back Stage East to learn more about the business. It was on her second audition last summer that she landed her first film role.
"It was a great experience," says Salomon, who watched intently from the audience at the New York International Independent Film and Video Festival last July when she made her debut on the big screen. After that tiny triumph, the vindicated and bona fide actor will never count herself out, no matter how competitive or scary the industry may be.
"I'm not going to let other people say I'm going to fail," Salomon declares, "because there are a lot of people waiting. Thinking about all the negative feedback from my family, that keeps me positive -- to show that I can do it."
Have you scored an interesting role recently thanks to a casting notice in Back Stage? If so, email your story and your headshot to bswcasting@backstage.com with the subject line "I Got the Part!"