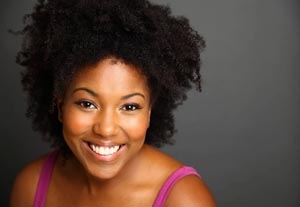 A combination of "owning" her skills and type and a supportive audition environment helped Tamala Baldwin get cast as one of the Dynamites, as well as the Pearl/Motormouth Maybelle understudy, in a production of "Hairspray" at the John W. Engeman Theater in Northport, Long Island, N.Y.
From the start of the audition process, it seemed clear to Baldwin—who is an Actors' Equity membership candidate and Screen Actors Guild–eligible—that the theater's production staff wanted to create a positive environment to help everyone perform at his or her best. "I remember the choreographer really taking her time with us," she says, "ensuring that all of our questions were answered. I believe she mentioned something along the lines of 'We want you to succeed,' which just resonates with me to my core. I also remember everyone behind the table having smiling faces! It was as if they were all rooting for you to shine and they were interested, invested. It was such a beautiful thing and something I have never experienced before on that level and with such sincerity."
According to associate producing director Vic DiMonda, Baldwin's singing ability and look made her a particularly good candidate for the roles. "Not only was she a good singer; she was also the right type," he says. "So Tamala is an example of when ability meets opportunity." And her performance grew and developed during rehearsals, DiMonda adds: "Tamala had to face some pretty detailed dancing to go along with her wonderful singing. I think she met this challenge head-on and succeeded. The atmosphere created by this particular cast of 'Hairspray' at the Engeman Theater was so supportive. It encouraged and enabled Tamala to relax and do some terrific work."
Baldwin feels that embracing and "selling" who she is, as opposed to trying to anticipate and fulfill the expectations of the casting team, has helped her become better at auditioning. "I think being able to own 'what I got' throughout all the steps of the audition process made this a successful experience for me," she says. "There were so many different types auditioning for the roles of the Dynamites, one can easily get caught up in the idea of trying to 'become' what they're looking for. I decided long ago not to be a slave to that type of limited thinking, so I owned what I had to offer and delivered that every step of the way…. It's very freeing and has been effective for me."
DiMonda agrees that performers who commit to being themselves at auditions are much easier to cast. "You only have one product, so your energy should be spent on showing me exactly who you are," he says. "Even if you aren't right for the particular project I'm working on, I will remember you if your skills at being yourself are the best they can be."
Baldwin thinks the overall experience of working on this show was extremely positive and has made her more confident in pursuing her acting career. "It's been a learning experience for me, in that I worked alongside so many accomplished performers and directors. It was amazing to listen to their sound and how I could fine-tune my own instrument," she says. "You don't always have to be in the front to be seen. This was a lesson I had to learn, and I am so appreciative for it."
Has Back Stage helped you get cast in the past year? We'd love to tell your story. Be in the weekly column by emailing casting@backstage.com for New York or bswcasting@backstage.com for Los Angeles with "I Got the Part" in the subject line.