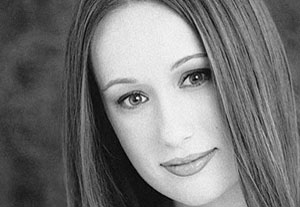 After submitting to a casting notice she saw in Back Stage, Tara Henderson auditioned and was one of five people cast—out of approximately 700 submissions and 250 auditioning performers—in the Shakespeare in the Valley Summer Outdoor Repertory Festival, located in Campton, N.H., near the White Mountains.
"I was very well prepared for the audition and used pieces that I felt very confident about and have gotten great feedback on in the past," Henderson says. "The pieces that I performed were roles that I knew I was right for and that also fit well into the style of the company's season. In addition, I think that what helped me stand out was that my audition material fully demonstrated how versatile I am as an actor and how the company could use me in many facets."
Among the many challenges of performing in the festival, Henderson says, were the outdoor venues, the rigorous rehearsal schedule, and the extraordinary number of roles in which she was cast. Aside from playing Queen Alonsa in "The Tempest" and Mistress Quickly and George Page in "The Merry Wives of Windsor," she played 10 roles as an ensemble member in "The 3-D Musketeers," which required her to remain onstage for the entire show, she says, "seamlessly morphing into each character in front of the audience."
The number of shows performed in repertory and the limited time in which to bring them to performance level made the rehearsals very demanding on the actors. "We were required to arrive performance-ready off-book, because we only had a week and three days to put up all three mainstage shows and all four Sugarcoated Shakespeare shows," Henderson says, referring to the festival's family matinees. "The rehearsal process was very intense but very rewarding."
According to artistic director Donna Devlin, it was not only talent that interested her in working with Henderson but also the actor's sense of professionalism and her personal character. "I've seen tens of thousands of actors, and Tara is one of the finest actors I've ever had the pleasure of working with," Devlin says. "We consider the moment you approach us as part of the audition. From the very beginning of the process, Tara was prompt, courteous, and professional, from submitting her materials to scheduling her audition to arriving early and prepared. She has such integrity as a person, and that integrity really shines through in her performance."
As for staying grounded and focused while pursuing her dream, Henderson gives a lot of credit to her family and friends for their support: "They are always the first people to be there to cheer me on during times of success and the first ones to dry my tears and tell me how great and talented I am during the tough and discouraging moments."
Has Back Stage helped you get cast in the past year? We'd love to tell your story. Be in the weekly column by emailing casting@backstage.com for New York or bswcasting@backstage.com for Los Angeles with "I Got the Part" in the subject line.