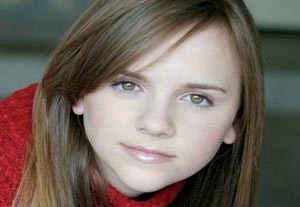 At 15, Tara Lynne Barr has a résumé that would make most actors twice her age envious. With roles in theater and television projects as diverse as
The Diary of Anne Frank
(as Anne Frank) and
The Suite Life of Zack & Cody
, Barr is focused on having a lasting career. After Barr starred in numerous children's theater productions at the Boys & Girls Clubs, her mother, Karen, recalls her then-9-year-old saying, "Mom, you need to get me an agent because I want to do film and TV!"
Karen had no experience in show business but saw the desire in her daughter and set about gathering information on agencies and auditions. She checked the Yellow Pages and then searched the Internet, eventually setting up an actor profile for her daughter on BackStage.com, which is where she saw the notice for the recent run of
Fifth of July
at the Long Beach Playhouse. The part of Shirley appealed to Tara Lynne Barr and her mother right away.
"It's so hard to find roles in my age range," says the younger Barr. "We saw that it was 12–16 and thought, 'We have to go in for that.' When I got the script [I thought Shirley] had such a great arc. She had such a change in her character by the end of the show, and she just seemed like she'd be so much fun to play." Phyllis B. Gitlin, the show's director, was impressed with the actor's ability.
"I put her together with her possible parents during the cold reading, and it just kind of popped," says Gitlin. "I always say to actors, 'Make me cast you. I'm waiting for you to give me that magic and that connection.' She had it." Playing Shirley wasn't a total walk in the park for Barr; she struggled with certain aspects of the character.
"I always find it hard to find what we call 'Shirley moments,' where she's being this over-the-top, crazy, attention-needing little brat," says Barr. "But I've been able to connect more with the character." Gitlin also had to work with Barr to break her of the physicality she developed while studying ballet.
"I said, 'I want you to be klutzy. I want you to fling yourself around,' " says Gitlin. Barr recalls these moments fondly: "She'd have me sashay and twirl across the stage and said 'Stop being so graceful!' I've been able to fix that a little bit, but it's still kind of hard because I'm so used to it."
Barr's desire to strengthen her abilities led her to study at the Lee Strasberg Institute after booking
Drake & Josh
on Nickelodeon. At this point she is well on her way, having been signed to BiCoastal Talent. Barr counts noted theater actors Donna Murphy and Michael Cerveris among her favorites and wants to eventually apply to Juilliard and NYU's Tisch School of the Arts for college. "She doesn't want to be a star. She just wants to be an actor," her mother says proudly.
As for the sacrifices Barr has made like missed birthday parties and dances, she keeps it all in perspective: "It's been tough, but when I think about it in the long run, if I had gone, this is what I would have missed." For more on Barr, visit www.taralynnebarr.com.
Has Back Stage helped you get cast in the past year
?
We'd love to tell your story. Be in the weekly column by emailing
casting
@
backstage
.
com for New York or bswcasting
@
backstage
.
com
for Los Angeles with
"I Got the Part"
in the subject line
.