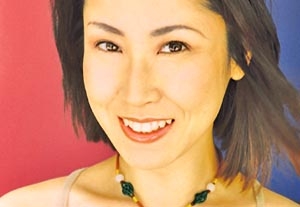 Actors are constantly asked to perform at their best with little preparation. But sometimes little preparation can serve the character. Terumi Shimazu discovered that when she was notified one day before shooting that she had been cast in director Adam Christian Clark's black-and-white short "The Editor: A Man I Despise."
"The situation was, there was a problem with her being called a little too late," Clark admits. "She was notified too close to the production. That was an error on our part." Error or no, Shimazu did not want to lose the opportunity to be in her first American film, having recently moved here from Tokyo.
"When I got the news, I was so delighted," recalls Shimazu, who studied acting at the Eric Morris Actors Workshop in Los Angeles. "Nevertheless, it wasn't the best time and condition for me. My life was so hectic, with a new part-time job and assignments for school. But of course I accepted it and was in the film."
The film is adapted from Pulitzer Prize winner Charlie LeDuff's short story about jaded reporters. Shimazu plays Li, a Chinese editor at The New York Times with no grasp of English, who annoys another editor, played by veteran actor Richard Riehle ("Office Space"). Clark set out to cast a nonnative speaker of English, and he loved Shimazu's look. He liked her nervousness on set even more.
"I don't know even to this day if she really fully understands that she did a good job," he says. "Whatever nervousness she had or whatever hectic energy she brought to the set from her real life was exactly what we were looking for, so I think it worked perfectly. When anybody goes back to school or starts something new in their life at an older age, they normally take it a lot more seriously, so I think she's really competent. It's incredibly brave to move here, and if you're brave enough to make that leap, there's probably something good in store for you."
"I got to the U.S. to pursue an acting career—with no friends, no connections, but only the information of a newspaper for actors named Back Stage," says Shimazu, who has since booked the feature film "Afros and Dragons and the Birth of a Legend," after writer-producer Michael Anthony Phillips found her in the BackStage.com database. "Back Stage always helps and inspires me very much," she says, "and I believe my story would encourage any immigrant actors with an accent."
"The Editor: A Man I Despise" was recently screened at the Show Off Your Shorts Film Festival. For more on Shimazu, visit
www.imdb.com/name/nm3283156
.