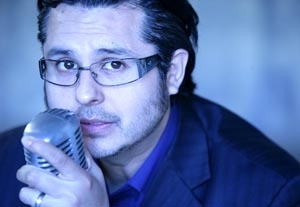 Persistence, determination, and resourcefulness paid off for Tony Gracia with a leading role. He plays the zombie hunter in the independent film "Scream, Zombie, Scream" (written and directed by Sherman Hirsch), about a world where zombies walking around is the norm.
Gracia, who lives in Orange County, Calif., picked up a free copy of Back Stage when he went to a Q&A session at the SAG Foundation in Los Angeles. He found a notice he was interested in, but he had missed the submission deadline. He decided to submit anyway, and his timing turned out to be perfect. Hirsch happened to be recasting the role of Rick. "Tony was a very lucky find," says Hirsch. "He contacted me at the time I needed him."
After Gracia submitted for the role, Hirsch contacted him for an audition and sent him the script. Gracia loved the story and started researching the director and memorizing the script. He left the house dressed nicely, out of excitement about auditioning, with tidily slicked-back hair. But the two-hour trip to North Hollywood transformed him into Rick. En route, Gracia got a flat tire.
"I pulled out this ridiculous little jack thing, and the car almost fell on me," he recalls. "I got grease everywhere—in my hands, on my face. My hair's all messed up. I thought maybe I shouldn't do this. Maybe God's telling me, 'No, don't go.' Then I thought, they say the things that are harder for you to get are the things that are worth getting." So he went to a tire shop, which offered him a $300 tire. Still not ready to give up, he headed to Costco and bought a tire. But Costco wouldn't put the tire on for him, so he used his charm—and status as the groom in the Weezer music video "Island in the Sun"—to persuade the Costco worker to let him borrow a jack and gloves, and Gracia went to work changing the tire himself. By the time he arrived at the audition, Gracia looked like Rick, the crazy guy he wanted to play.
Gracia and Hirsch connected in the audition, and Hirsch had Gracia stay to read with another actor. Hirsch recalls, "I knew he was the one because he responded to my direction at the audition. He proved to me that he could play the role."
The project, which was shot completely on green screen, was a great experience for Gracia, who says the most challenging part was how serious he had to be all the time. "It was very hard to not smile, to be mad all the time," he says. And after this project, Gracia has more confidence in his ability to memorize lines, which makes the acting so much easier. "I always thought in college: No, don't give me the big part," he notes. "I'll just do a cool little part so I don't have to memorize. But with 'Scream, Zombie, Scream,' I learned that I can memorize."
Gracia doesn't let his home location, in a county adjacent to Los Angeles, hamper his acting career. A casting director advised him to act every weekend, and he does that, filming projects that he writes, directs, and acts in for the Web. One of the current projects is in collaboration with his "Scream, Zombie, Scream" director. Gracia believes that it doesn't matter where you are. "If you follow your heart, God will help you even if you live in a small town," the actor says. "If God wants you acting, you're going to somehow end up there anyway."
Gracia is a member of SAG and AFTRA. www.urbanotv.com/tgracia. www.youtube.com/ipocrama.
Has Back Stage helped you get cast in the past year? We'd love to tell your story. Be in the weekly column by emailing casting@backstage.com for New York or bswcasting@backstage.com for Los Angeles with "I Got the Part" in the subject line.