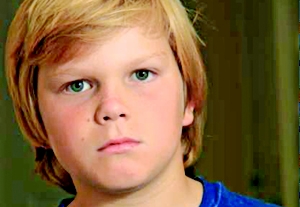 Two years ago, 10-year-old Trey Loney took an interest in acting. After dabbling in theater, background work, and acting classes from his home base of Encinitas, Calif., the youngster was ready to audition for his first speaking role in a film: a three-minute short called "Shadow Man," set in a 1930s migrant camp in California.
"He decided, 'Mommy, I want to do some more acting parts in Hollywood when I go up there,' so I said okay," recalls his mother, Kelly, who signed him up for a Back Stage account last October. "He's the only one of my kids acting. The other ones are into totally different things, but my great-grandparents were in vaudeville and my whole side of the family is in some kind of performing arts. It's very natural for him. He is very melodramatic."
Producer-director Sara Caldwell was looking for a child who could fit the period and had a good personality, as he would play the central character. "He's great—no inhibition, had totally prepped and read the part," Caldwell says. "He had very few lines, but he had the look. We had to have a kid that was able to look really frightened, and he was able to totally carry that off. He started shrieking for his mother in the audition, and I was like, 'Oh my God, this kid's got it.' "
Because Trey was playing a very sick, scared child living in a tent during the Depression, the crew darkened his hair and put dark shadows under his eyes. "His mother is sick, and he thinks that the Shadow Man is coming to take her like death," says Kelly. "He's tormented by it, and there was so much emotion, and he's totally not like that. He's kind of a crack-up." After "Shadow Man," she says, he did "a Comedy Central short for Atom.com, and it was a comedy piece. So he can do a range of emotions. He's a very happy-go-lucky, well-rounded kid. He's starting football next month and he loves baseball."
Trey says he prefers acting to football because "it's very helpful to express yourself in others. Also just to get out and being neat new people and having fun with it." The biggest challenges were all the locations and the cold February weather, he adds. So what was his favorite part of shooting "Shadow Man"? "The part when I was under the tree in the grass because it was hot out," says Trey, who has taken acting classes at the North County School of the Arts and at Coast Kids Theatre.
Caldwell remembers how inquisitive he was on set, trying to understand the camera and what was going on behind the scenes. "He totally followed direction, which a lot of children can be difficult with, like the continuity of raising the same hand and getting the same action, and he was really a little professional," she says. "He's the director's dream as a child."
Caldwell, who is about to hold the first cast-and-crew screening, thinks Trey could have a career if he stays enthusiastic about it. His mother says she just wants to make sure he doesn't overdo acting and get burned out: "I think he wants to go as far as he can go with it. He says to me, 'Mommy, when I grow up I'm either going to be a famous baseball player, a famous actor, or a businessman like daddy." Or as Trey puts it, he's happy to continue acting "until life doesn't work out for it."
For more on Trey, visit
www.imdb.com/name/nm3993845
. For more on "Shadow Man," go to
www.houseofgorey.com
.