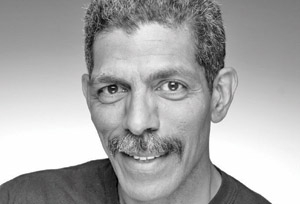 Victor Melendez has wanted to be an actor since the 1970s, but life kept getting in the way. Financial and family responsibilities took precedence, and he had to "put acting on hold 99 percent of the time," he says. This didn't stop him from spending more time with friends at New York's LaGuardia High School of Music & Art and Performing Arts than at his own school, although he admits he ended up paying dearly for it.
Tired of waiting for the "right time," a couple of years ago Melendez posted his headshot on BackStage.com. Nothing came of it, however, and eventually he gave up, canceling his subscription. Then, last December, a filmmaker called out of the blue, saying he had found Melendez's information in the BackStage.com talent database and wanted him to participate in a music video. Melendez was unable to make that particular shoot, but, he says, "I scrambled to get my stuff current again and renewed my subscription ASAP." For the very first project he submitted to, a new play titled "Home Sweet Homeless," he was called in for an audition, whereupon he landed the supporting role of John Sky, a homeless veteran.
Melendez admits he was "terrified" walking in for this, his first-ever professional audition, but he was not unprepared. Drawing on his military background, he was able to calm himself and find what he had in common with the character, putting on his "game face," he says, before going in to read. Since being cast, he has found rehearsals a valuable learning experience. "Adjusting myself and learning my character is a challenge," he says, "but I can do this."
Debbra Liverman, the writer and producer of the play—part of a two-show production that follows the economic fall and rise of a hard-working family—confirms that Melendez nailed the role at his audition, adding, "We cast him right after he read." She also praises him for taking direction well in rehearsals and being an easygoing team player in an ensemble cast.
Although Melendez has never received formal acting training, his varied careers have offered him many acting opportunities, especially during the years he spent working as an undercover investigator. "One bad review could have cost my life," he says. These days, however, he is taking a safer and more orthodox approach to his studies and is researching Stanislavsky and Method acting.
Melendez is not resting on his laurels with this one play. He is submitting himself to other projects and has signed up with a photography service to submit his image for commercial use. Eventually he would like to branch out into film and television work—"Law & Order" in particular—but for now he is "living the dream," he says, his lifelong goal of becoming a professional actor finally a reality.
"Home Sweet Home" and "Home Sweet Homeless" run April 9 and 10 at Salvation Army Chapel, 540 Malcolm X Blvd., in New York City. For more about the shows, visit
www.debbraliverman.com
.
Has Back Stage helped you get cast in the past year? We'd love to tell your story. Be in the weekly column by emailing casting@backstage.com for New York or bswcasting@backstage.com for Los Angeles with "I Got the Part" in the subject line.