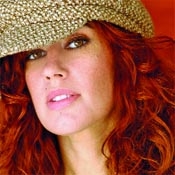 As a young girl, Victoria De Mare was obsessed with scary movies. "I remember going to the video store and standing in front of the horror section, trying to bribe my sister to rent them for me knowing I was totally not allowed," she says. "It petrified me, but I loved it. It was horror that I started auditioning for, started to book, and where I really started to work. It was kismet." Scream Queen.com dubbed De Mare "Scream Queen of the Month" in November 2007, and it all began with a casting notice in Back Stage.
"I love Back Stage," De Mare says. "When I was a struggling actor, I subscribed to the paper and got it every week to comb it for submissions." In 2003 a listing for a project called Azira: Blood From the Sand, written, produced, and directed by Scott Evangelista and Vincent Bilancio, piqued her interest right away. It was a horror film about Cienega, a college student who is transformed from virginal naif to killer after being possessed by the demon witch Azira.
"I thought, 'That's one hell of a character!' " says De Mare. She also got to work with celebrated scream queen Julie Strain, one of her idols. "It was a wonderful opportunity for me so early in my career. It was also one of the first leads that I ever had the opportunity to play."
Bilancio recalls De Mare's audition fondly. "It's a little difficult when working with a small budget," he says. "People don't always bring in their A-game, and Victoria did. You could tell by talking with her that she was going to do the homework." De Mare was born and raised in New York City and attended NYU, where she studied dance, theatre, and broadcast journalism. She also earned a spot in the apprenticeship program at the Joffrey Ballet, and her dance background has served her acting career, she says: "Especially in a lot of these horror movies, when there are a lot of physical scenes. I've been doing a lot more sci-fi thrillers and action movies, where I've been taught and trained to do some of my own stunts. Stunt coordinators love when you tell them you're a dancer, because of your agility, flexibility, and ability to retain the choreography." Azira: Blood From the Sand boosted De Mare's profile in the horror world. Since then she has starred in nearly 40 horror films, earning cult status and fans all over the world. Many of her projects have been helmed by people she has worked with on previous films, including Bilancio. "When you find someone that's talented and genuinely nice to work with, you want to keep working with them," he says. "She's not afraid to take chances, listens to the director's vision, and puts her own spin on it. She realizes her audience and what they expect."
De Mare's popularity has grown since she started attending Fangoria's Weekend of Horrors, a major convention for horror aficionados. "People come in with their scrapbooks of all their favorite horror people throughout the years, and then they flip to the recent pages, and you're in there," says De Mare, who will be attending this year's Los Angeles convention, April 17–19. "They have a whole page dedicated to you. That's so overwhelming and humbling, and it makes you realize that you're doing the right thing." For more information, visit Scream Queen.
Has Back Stage helped you get cast in the past year? We'd love to tell your story. Be in the weekly column by emailing casting@backstage.com for New York or bswcasting@backstage.com for Los Angeles with "I Got the Part" in the subject line.