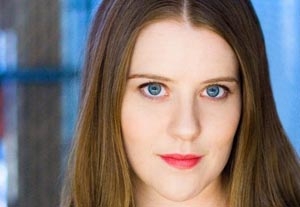 For actor Vivian Kerr, one casting notice on Back Stage's Facebook page set in motion a series of events that included booking a role, being invited to join a theater company, and earning a 2011 Ovation Award nomination.
In January, Kerr saw a casting notice for Theatre Banshee's production of Arthur Miller's "The Crucible" on the Back Stage Facebook page. She was immediately interested because she had always loved the play and had been hearing great things about the theater company. So she emailed her submission and got called in for a general audition, at which she performed a monologue. When it came time to fill out the audition form, she was interested only in the role of Mary Warren, but she didn't want to put that on the form. She says, "It's funny because I think Abigail is the part that most girls are drawn to, but I always just liked Mary Warren."
Leslie Baldwin, co–artistic director of Theatre Banshee, thought Vivian was the ideal Mary Warren. According to Baldwin, the theater normally doesn't bring in actors to read for callbacks if the company is able to fill the role from within. Baldwin says, "Going into this audition, I would have bet that we could have filled [the role], but Vivian knocked it out of the ballpark, so to speak." The company members enjoyed working with Kerr so much that when the show was over, she was invited to join. Kerr wasn't looking to join, but, she says, "I just liked the people so much and the way they approached their work that I just had to say yes. It just feels like a really nice artistic home."
Kerr was attracted to the story of "The Crucible" and the issues of conscience Miller deals with in many of his plays. The show was a great experience for her; she loved the time and thought that went into mounting the production, which she thinks is rare for a 99-Seat theater. But the rehearsal process was challenging for Kerr because she didn't want to let the cast down. She says director Sean Branney helped a lot by very much trusting the actors: "He allowed us to really follow our instincts and gave us a lot of room to try things. He didn't impose; he let us find a lot of the blocking naturally. And I also really appreciate the fact that towards the end of the rehearsal process when things weren't always going the best, he was very demanding. Like he wouldn't allow the play to be anything less than it could be."
The hard work paid off. Baldwin says, "Vivian's ability to make big but emotionally filled choices from the start was impressive. Her take on Mary Warren exhibited a sense of innocence, a sense of self-right­eousness, and a state of self-conflict in equal measure. We saw shades of all of this early on, including her character's ability to elicit pity and compassion despite her terrible betrayal of truth and conscience. In the end, the emotional depth to which Vivian was able to dig proved awe inspiring—and is one of the reasons, I imagine, she is nominated for the Ovation Award."
Kerr is a member of SAG, AFTRA, and Equity. Her website is
www.viviankerr.com
.
Has Back Stage helped you get cast in the past year? We'd love to tell your story. Be in the weekly column by emailing casting@backstage.com for New York or bswcasting@backstage.com for Los Angeles with "I Got the Part" in the subject line.