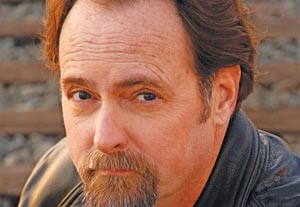 Since getting his first professional review in Back Stage as a young man, "appropriately handsome with a fresh scrubbed–naiveté," Walter B. Smith has shuffled through casting notices in the publication. Of late, he receives a constant flow of notices online. One in particular listed the name of a fellow actor, Ray Limon, as director-choreographer of a production of "How to Succeed in Business Without Really Trying" at the Welk Theatre in Escondido, Calif., just north of his home in San Diego. Seeing that Limon was associated with the musical, Smith submitted himself.
The two worked together previously in a radio drama adaptation of "It's a Wonderful Life," in which Limon witnessed Smith taking on multiple roles. Limon describes Smith as "the epitome of a strong character actor." When initial preparations began for "How to Succeed," Limon was hoping his former cohort would come in to audition. At the time, Smith was committed to another show. "I had to do a little bit of wheeling and dealing to win him over to our side," says Limon.
Going into the audition, Smith felt that the dual casting of Mr. Twimble, the head of the mailroom, and Wally Womper, the chairman of the board, was a good fit for him, while he kept the more prominent role of J.B. Biggley in his back pocket as a close second choice. The actor sang "Grand Old Ivy" from the score, which convinced the director to have him read for Biggley on the spot. Regarding Smith's version of Biggley, Limon says, "It's not going to be the movie, and it's not going to be the Broadway show; it's going to be his take on it. It's so refreshing that somebody takes a new breath or is brave enough to breathe some kind of life into [the character]."
The role of Biggley seems to fit Smith perfectly, as it does not require legit singing or dancing. During the rehearsal process, Smith admitted to feeling a bit of guilt: "Everyone else has these precisely choreographed moves," he says. "I just get to be kind of wacky." To be precise, he gets to do an interpretive dance on top of a desk.
However uncomfortable Smith may feel, it is trumped by his gratitude for being a working actor at home in San Diego. During a period of being out of the business as an actor, Smith took to teaching drama. As economic shifts occurred, he lost his position. Since then, he noticed, "the only doors that have been open have been in the performance realm, which is kind of fun…to do what I love, right?" Smith especially pushed himself to succeed after losing his teaching gig. As a result, he has worked consistently in San Diego, proving that an actor does not have to take the accustomed Los Angeles–New York route to be employed.
Smith also seems content with the awareness that his type has changed since his first review in Back Stage, pointing out that he enjoys playing character roles. His philosophy as an actor is rooted in a steadfast ethic: "It's all about being a kind person, establishing a relationship, and doing the best work you can." Smith notes that if you are lucky enough to have a professional bond with a prolific director, you just might have a shot at working again.
"How to Succeed in Business Without Really Trying" runs Jan. 19–Feb. 26 at the Welk Theatre San Diego, 8860 Lawrence Welk Dr., Escondido, CA. For more info, visit www.welktheatersandiego.com.Has Back Stage helped you get cast in the past year? We'd love to tell your story. Be in the weekly column by emailing casting@backstage.com for New York or bswcasting@backstage.com for Los Angeles with "I Got the Part" in the subject line.