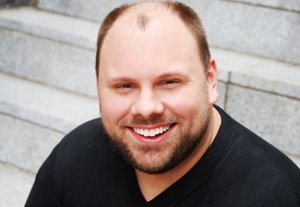 When one thinks of the term "model," a number of descriptive adjectives immediately spring to mind. The more common phrases include "stunning," "svelte," "toned," and "statuesque." Conversely, Zach Handler agrees that none of these terms applies to his physique. Despite this, the nonunion actor has recently booked a successful print and online campaign for Astoria Regional Savings Bank through Back Stage, in what amounts to his debut as a model.
"Since I moved to New York, part of my daily routine is checking the casting notices on backstage.com," Handler says. "When I came across the ad for 'Regional Bank Photo Shoot,' I was unsure because I had never done any modeling. But the casting notice said they were looking for 'real people' and people of all ages, so I decided to go for it. Also, when I saw that it pays $400 for three hours' work I knew I had to submit."
Without much deliberation, Handler sent the online submissions directly to Frank Veronsky Photography. Rather than include a cursory line or two in the "Comments," Handler stood out by creating a story to go along with his headshot. "A lot of my actor friends will sometimes just write a line or two," he says. "Lines like 'I am interested in being part of your project' or 'Hope to hear from you soon.' That's OK, but we all know that people who are just OK don't book. Because someone else is going to present themselves as exceptional. I feel like any opportunity you have to sell yourself, you really have to sell yourself. If you don't, someone else will." He adds, "The next week or so I got a call from them, [and I thought] they were going to call me in for a casting. It was even better news ... They wanted to book me!"
Jennifer Pierce of Frank Veronsky's studio confirms the nonunion project was seeking "real" types, albeit ones who were comfortable being in front of a camera for hours. She explains her casting methodology: "Actors are better because they know how to work in front of a camera and be real at the same time. We have used Back Stage to cast for many jobs like this over the years. Over the last eight years, I have probably booked 250 actors. They are better suited for this type of shoot."
Not content to portray "real" in only pictures, Handler will be seen shortly on reality-TV programs "Celebrity Ghost Stories," on
Biography Channel
, and
Animal Planet's
"Monsters Inside Me." He also just booked stage gigs at
Festival 56
in Princeton, Ill., through Back Stage and will be appearing there in "The Tempest," "Cabaret," "And Then There Were None," and "Carousel." But he doesn't shy away from print modeling for banks.
"You have nothing to lose and some really quick money to gain by submitting for modeling gigs," Handler says. "Prior to this, I had zero experience with print modeling, or any modeling for that matter. The photographer created a warm environment where it did not feel like modeling but hanging out with old friends. As a result, I completely let my guard down and was able to let my genuineness shine through. We only actually shot for two hours and I made $400. That's a whole lot of tables I didn't have to wait."
Zach Handler is seeking representation. The Astoria Regional Savings Bank campaign is viewable at www.tinyurl.com/astoriabank.Has Back Stage helped you get cast in the past year? We'd love to tell your story. Be in the weekly column by emailing casting@backstage.com for New York or bswcasting@backstage.com for Los Angeles with "I Got the Part" in the subject line.